Careers at Thomson Reuters
Find out what work opportunities are available. Explore careers here, and overseas.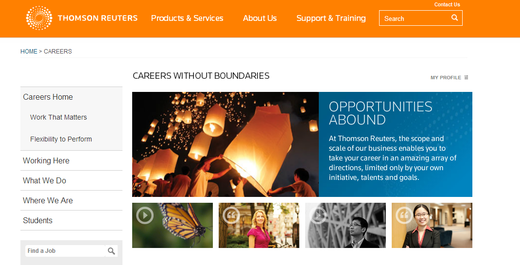 Thomson Reuters has approximately 55,000 employees across the globe, combining industry expertise with innovative technology to deliver critical information in financial, legal, tax and accounting, scientific, healthcare and media markets. As one of the largest multinational information providers in the world, we offer our current and future employees a dynamic and exciting career in the world of paper, electronic and online products.
Click the link to begin exploring your career opportunities at Thomson Reuters.
Contact Us
Legal
Information & Product Support
From New Zealand: 0800 10 60 60
International: + 64 4 801 0001
Fax: 04 802 0300
Email: Care.ANZ@thomsonreuters.com
Mon-Fri, 8am-5pm NZST
Tax & Accounting
Information & Product Support
From New Zealand: 0800 785 483
Email: supportANZ@thomsonreuters.com
Mon-Fri, 8:45am-5:15pm EST