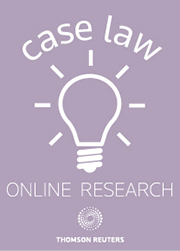 Contract Law Cases
Online

Date: 15/04/2017

Code: 42080272

Thomson Reuters, NEW ZEALAND
Description
Contract Law cases
Contract Law Cases is a comprehensive, searchable database of more than 5,000 full-text case records, sourced from a variety of New Zealand courts and tribunals, relating to contract law. This topic focused database will aid research on the interpretation of various forms of contract, breaches of contract, and remedies.
Integration with related Westlaw NZ products including commentaries (such as Gault on Commercial Law), law reports series, A to Z of New Zealand Law, and legislation and articles ensures you have complete access to all your research needs in one platform.
Key benefits
Specifically target thousands of cases related to contract law in New Zealand saving you valuable research time.
Access the most current cases with decisions classified and uploaded as soon as they are received from a court or tribunal.
Enjoy the convenience of viewing the original judgment text where available.
Take advantage of an advanced search template, including an option to limit searching to reported cases only or to a specific law report series
Related Westlaw NZ products
Contract - Misrepresentation - A to Z of New Zealand Law ( forthcoming 2017 release)
Remedies – A to Z of New Zealand Law
Gault on Commercial Law (commentary and legislation)
Brookers Land Law (commentary and legislation)
In addition, Legal Professional Responsibilities Cases, Social Security Cases, Sports and Recreation Cases, Tenancy Law Cases and Tort Law Cases are now available on Westlaw NZ.