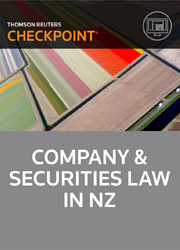 Corporate Law in New Zealand, Watson and Taylor (eds) - Checkpoint
Online

Date: 01/05/2013

Code: 41413593

Checkpoint NZ, NEW ZEALAND
Description
Checkpoint Company and Securities Law in New Zealand is taken from our leading Company and Securities Law in New Zealand text and provides for the first time a truly topic based, deep research solution. It covers company law and securities regulation in New Zealand. It addresses corporate insolvency and touches on the Personal Property Securities Act 1999. The treatment of securities regulation necessarily involves matters which go beyond the scope of companies, but the main emphasis is on the regulation of companies.
Key Features
Deeper research – link to cases, legislation, commentary, precedents and websites.
Fast and efficient – browse table of contents, link to further resources and search the text.
Up to date – authors of the original text update the online version as changes occur.
Find out more
For pricing, to order Checkpoint products and services or discuss trial options, please contact a Thomson Reuters Tax & Accounting Account Manager or our Customer Care Team at info.anz@thomsonreuters.com or 0800 785 483.
*
Price is for a single annual subscription for firms or businesses with one practitioner.
Practitioner is defined as employed and/or self-employed professionals within New Zealand including: solicitors, self-employed barristers, HR professionals and environmental specialists, corporate counsel, accountants including CPAs and CAs and registered tax agents and financial planners.
For pricing for government departments and authorities and multiple users please call 0800 785 483.