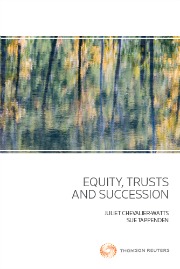 Equity, Trusts and Succession (Book)
Book

Date: 17/12/2013

Code: 9780864728500

Thomson Reuters, NEW ZEALAND

Equity, Trusts and Succession (Book)
Description
Equity, Trusts and Succession is a comprehensive and authoritative guide to the law in this field.
The text is written in plain language and designed to promote an understanding of the concepts that lie at the heart of the law of equity, trusts and succession, and the context against which that law was made.
Written by law lecturers Juliet Chevalier-Watts and Sue Tappenden, the book is designed to be a teaching aid which is tailored to the curriculum requirements for all law school courses covering equity, trusts and succession. The book begins with an introduction to the law of equity, followed by chapters covering fiduciary relationships, the creation of express trusts, constructive trusts, resulting trusts, trustees' duties and the variation of trusts, charitable trusts, interim injunctions and tracing. The book is "rounded out" with a chapter devoted to the law of wills and succession.
Table of Contents
Part 1 Introduction/Overview
Chapter 1 Introduction to Equity
Chapter 2 The Fiduciary Relationship
Part 2 Trusts
Chapter 3 The Creation of Express Trusts
Chapter 4 Constructive Trusts
Chapter 5 Resulting Trusts
Chapter 6 Trustees' Duties and Variation of Trusts
Chapter 7 Charitable Trusts
Part 3 Interim Injunctions and Tracing
Chapter 8 Interim Injunctions
Chapter 9 Tracing
Part 4 Wills and Succession
Chapter 10 Wills and Succession
Table of Statutes and Regulations
Table of Cases
Subject Index