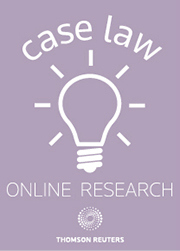 Insurance Cases - Westlaw NZ
Online

Date:

Code: 30160019

Thomson Reuters, NEW ZEALAND
Description
Insurance Cases is a comprehensive database of more than 950 case records, sourced from a variety of New Zealand Courts and Tribunals, relating to all aspects of insurance law.
The key issues covered include:
Policy cover interpretation and advice
Negotiating claims settlement
Claims disputes: dispute resolution, litigation and mediation
Professional indemnity
Policy and underwriting drafting
Canterbury Earthquake settlements and disputes
*
* Please note that product prices are a standard entry-level price (1-5 online users). This price may vary if there are more users or if customers enter into an e-Options or Information Supply Agreement with us.