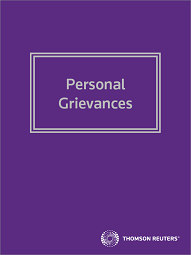 Personal Grievances - Westlaw NZ
Online

Date:

Code: 41169029

Thomson Reuters, NEW ZEALAND
Description
Personal Grievances covers every aspect of personal grievance resolution and litigation as regulated by the Employment Relations Act 2000 and by common law.
This is a fast-changing and increasingly important area of law, and Personal Grievances is designed to provide clear practical and procedural advice from some of New Zealand's leading employment lawyers.
Supporting case law and analysis makes this work essential for anyone seeking to prepare advice for, or enter into, any employment grievance action. Whether the advice is to an employee or an employer, Personal Grievances is a complete resource.
While it is self-contained, Personal Grievances is a companion work to the commentary on the provisions of the Employment Relations Act 2000 in Employment Law.
Personal Grievances Precedents supplements the information in Personal Grievances by providing checklists, precedents and prescribed forms for any personal grievance action.
Table of Contents
Part A: Grounds for a Personal Grievance
Definition of a Personal Grievance
Concept of Dismissal
Substantive Justification (Grounds for Dismissal)
Procedural Fairness and Justification
Fixed Term Agreements
Redundancy
Probationary and Trial Periods
Disadvantage Grievances
Sexual and Racial Harassment
Discrimination
Duress
Part B: Remedies
Part C: Process
Institutions and their Procedures
Statement of Reasons for Dismissal
Invoking the Personal Grievance Procedure
Grievance Different from that Alleged
Stay of Disciplinary Action or Grievance when Criminal Proceedings Pending
Part D: Alternatives
Statutory and Common Law Remedies
*
Please note that product prices are a standard entry-level price (1-5 online and 1-3 CD users). This price may vary if there are more users or if customers enter into an e-Options or Information Supply Agreement with us.