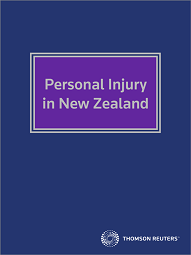 Personal Injury in New Zealand - Westlaw NZ
Online

Date:

Code: 41169062

Thomson Reuters, NEW ZEALAND
Description
Personal Injury in New Zealand is an essential resource for anyone who is required to research or provide advice on personal injury compensation.
New Zealand is a world leader in intervening legislatively to recognise and mitigate the impact on society and individuals of the social and financial consequences of accidents causing personal injury.
The introduction of the Accident Compensation Act in 1972 and its subsequent amendments and changes means that anyone providing legal advice on personal injury must understand and navigate through a complex set of processes and rules.
Personal Injury in New Zealand provides detailed guidance to lawyers and other professional advisers. Originally published in 1992, it has become an authoritative guide to all New Zealand law relating to personal injury compensation and prevention measures.
This service contains detailed discussion of the effect of legislation and case law, brought together with the practical experience from leading New Zealand personal injury advisers and lawyers.
Table of Contents
Introduction
History of Accident Compensation Legislation in New Zealand
Accident Compensation Act 2001
Section-by-section commentary and analysis
Regulations
All current regulations related to personal injury
Code of ACC Claimants' Rights
Injury Prevention, Rehabilitation, and Compensation (Code of ACC Claimants' Rights) Notice 2002
Common Law Damages
Detailed commentary and analysis of the common law relating to the award of damages for personal injury in New Zealand
Safety and Injury Prevention
Introduction
Accredited employers programme
ACC and Department of Labour interface
Breaches of employer rules
Main difference between old and new legislation
Responsibilities of employees
Health and Safety at Work Act 2015
Overview of interpretation sections of Health and Safety at Work Act 2015
Accident recording and notification
Enforcement
Exemplary damages
Comparative Tables
Related Legislation
Table of Statutes and Regulations
Table of Cases
Subject Index
Features and Benefits (PDF)
This product is available in the following formats: online, ProView and looseleaf.
*
Please note that product prices are a standard entry-level price (1-5 online and 1-3 CD users). This price may vary if there are more users or if customers enter into an e-Options or Information Supply Agreement with us.