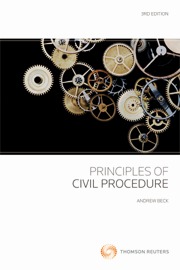 Principles of Civil Procedure - 3rd Edition
Book

Date: 01/03/2012

Code: 9780864727343

Thomson Reuters, NEW ZEALAND

Principles of Civil Procedure - 3rd Edition
Description
Principles of Civil Procedure (3rd edition) provides a clear and concise overview of the principles, themes and practical requirements that underpin the system of civil procedure in New Zealand.
It continues as the only book to offer a principle-based discussion of the law of civil procedure. It is the essential research and reference guide for students, academics, and practitioners.
The book includes comparative tables mapping the High Court Rules 1985 to the High Court Rules 2008 and vice versa.
Features
Significant developments since the last edition include:
New rules relating to the service of proceedings overseas and to the governance of discovery;
Changes to the way cases are managed by the courts; and *An entirely new evidence regime has been established.
contents
Preliminary Matters
Jurisdiction: Can the Court Decide this Matter?
Parties: Who can Bring a Claim and Who Should be Involved?
Types of Proceeding: How to Begin and What Is Involved
Documents: Pleadings, Affidavits and Forms
Service: Getting Documents to Other Parties
Defendant's Response: Fighting off Judgment
Interlocutory Procedures: Matters Preparatory to Trial
Protection of Litigants: Devices to Prevent Waste and Abuse
Evidence Before Trial: Discovery, Interrogatories and Other Matters
Disposing of the Proceeding: Reaching a Decision on the Merits
Reconsideration of Decisions: Appeals and Other Remedies
Costs: The Price of Litigation
Table of Statutes and Regulations
Table of Cases
Subject Index