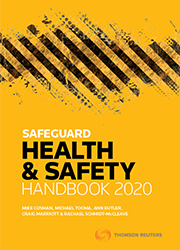 Safeguard Health & Safety Handbook 2020 bk
Book

$42.00* + GST $105.00 RRP + GST Save: $63.00 (60%)

Date: 06/12/2019

Code: 9781988591230

Thomson Reuters, NEW ZEALAND

Safeguard Health & Safety Handbook 2020 bk

Sale Price:

$42.00

Saving: $63.00
Description
The Safeguard Health & Safety Handbook 2020 is an essential guide for those at the forefront of health and safety in New Zealand. Written in clear language, it is current to 1 September 2019 and brings together analysis of the legislation, practical advice, tools and case notes, to provide readers with a reliable reference source and quality guidance on meeting their responsibilities under the Health and Safety at Work Act 2015.
Written by industry experts and based on the practical and popular online publication Health, Safety and ACC available on the Safeguard OSH Solutions database, the book starts with an introduction to health and safety and an overview of the key concepts of the Act. It follows with an in-depth explanation of duties, then moves on to leadership, tools, health and safety regulations and enforcement options. The last chapters include a comprehensive set of health and safety case notes, as well as guidance on accident compensation and the growing area of occupational health. As an added advantage the book is fully indexed so key words and phrases can be pinpointed throughout the text. The 2020 edition includes revised and updated text throughout, as well as updated case law and legislation developments.
Make sure you follow the correct processes and attain compliance and best practice in every health and safety circumstance by investing in the Safeguard Health & Safety Handbook 2020. This resource is a must-have for PCBUs, officers, unions, site managers, health and safety representatives, consultants and managers in small to medium businesses and organisations.
Safeguard is one of New Zealand's most influential and recognisable health and safety brands – in print, online and live. Since 1988 it has provided innovation, inspiration and information to keep people healthy and safe at work.
Table of Contents
Chapter 1 – Introduction
Chapter 2 – Key Concepts
Chapter 3 – Duties
Chapter 4 – Leadership
Chapter 5 – Tools
Chapter 6 – Regulations
Chapter 7 – Enforcement
Chapter 8 – Health and Safety Case Notes
Chapter 9 – Accident compensation
Chapter 10 – Occupational health
Table of Cases
Table of Statutes and Regulations
Subject index