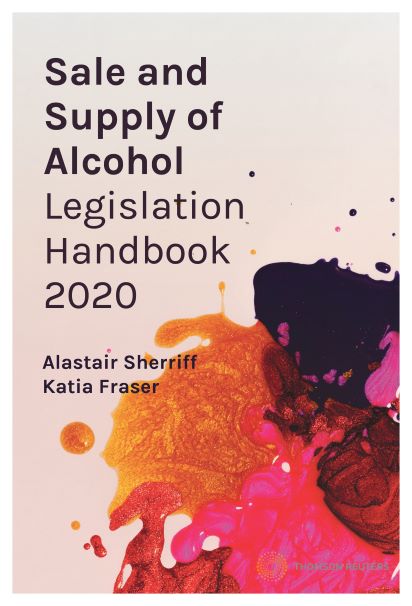 Sale and Supply of Alcohol Legislation Handbook 2020 (ebook)
eBook - ProView

$48.72* + GST $60.90* RRP + GST Save: $12.18 (20%)

Date: 01/12/2020

Code: 9781990018305

Thomson Reuters, NEW ZEALAND

Sale and Supply of Alcohol Legislation Handbook 2020 (ebook)

Sale Price:

$48.72

Saving: $12.18
Description
This fourth edition of the Handbook contains the full text of the Sale and Supply of Alcohol Act 2012 as at 30 June 2020. The 2012 Act substantially changed New Zealand's alcohol laws. Alcohol licences are harder to get and there are more opportunities for public participation in the process. Practitioners are more widely consulted than in the past, and need to be up to date with the legislation, as well as the judgments of the Courts and the determinations of the Alcohol Regulatory and Licensing Authority.
Sale and Supply of Alcohol Legislation Handbook 2020 features the original introduction by Alan Dormer and Alastair Sherriff that outlines the history of sale and supply of alcohol law in New Zealand and describes the key features of the 2012 reforming Act. Alan Dormer retired as a co-author early in 2020. Alastair Sherriff is joined by Katia Fraser. They have set out the key changes to the legislation that have occurred since the 2018 update.
Alastair and Katia are alcohol licensing experts and have participated in many of the leading cases in the field. They are the co-authors of Sale of Alcohol (online loose leafed, Thomson Reuters).
This Handbook retains the Commissions of Inquiry Act 1908, and the Regulations made under the Sale and Supply of Alcohol Act 2012, comparative tables comparing the 1989 Act provisions with the 2012 Act equivalent provisions (where applicable), a legislative table, and a subject index.
This work is an invaluable resource for local authorities, Police, Medical Officers of Health, licensing authority and licensing committee members, as well as consultants and lawyers who advise clients on alcohol licensing matters.
*
eBooks and packages including an eBook may not be returned once the software key has been supplied. Your rights as a customer to access and use the ProView™ software and a ProView eBook are subject to acceptance of the ProView content licence agreement.
NB
An email with a registration key and instructions for accessing your eBook will be sent after checkout. For existing ProView users the eBook will appear in your library after checkout.

Forthcoming/pre-order eBooks will be available after the publication date.

The ProView app is not currently available on Kindle. See the latest system requirements