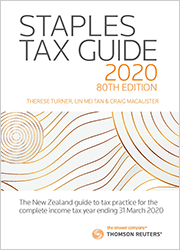 Staples Tax Guide 2022 - 82nd Edition (Standing Order)
Book

Back order: This item will be shipped when it is available.




Date: 28/06/2019

Code: 30112473

Thomson Reuters, NEW ZEALAND
Description
Staples Tax Guide 2020 provides you with the latest legislation and case law for the income tax year ending 31 March 2020.
Now in its 80th annual edition, Staples Tax Guide is the essential reference on New Zealand income tax and GST issues. It contains in-depth commentary on legislation, Inland Revenue policy, compliance procedures and judicial decisions.
KEY FEATURES
Comprehensive summary of recent and future developments in tax;
Coverage of all aspects of tax, using a unique A-Z format for unrivalled simplicity;
Commentary on farming, forestry, fishing, property and land;
Depreciation rates;
Examples, flowcharts and relevant references to leading tax cases;
Income Tax Act comparative table (Income Tax Act 2004 and Income Tax Act 2007);
A tax calendar for the current tax year;
Comprehensive, easy-to-use cross-referencing between tax legislation and commentary.
*
Price is for an standing order and you will receive the update issued each year in print format when it is released. You will receive the current edition in print format upon purchase. Thereafter, invoices and subsequent editions will be issued automatically.Subscribers must provide the publisher with written notice of cancellation within 30 days of the date of their standing order invoice; otherwise the subscriber will be liable for the invoiced amount. To order a one-off copy only or further information, please contact us by email supportANZ@thomsonreuters.com or call 0800 785 483.