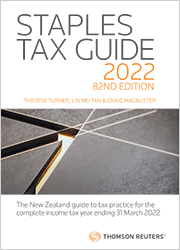 Staples Tax Guide 2022 book-82nd edition
Book

New Release, 02/05/2022

Code: 9781990018886

Thomson Reuters, NEW ZEALAND

Staples Tax Guide 2022 book-82nd edition
Description
This is a one-off purchase only. Please take care not to duplicate your order.
You do not need to order here if you or your firm already have an existing Standing Order / Subscription to Staples Tax Guide.
If you are unsure whether you have an existing subscription, please contact us by email SupportANZ@thomsonreuters.com or phone: 0800 785 483.
Staples Tax Guide 2022 provides you with the latest legislation and case law for the income tax year ending 31 March 2022.
Now in its 82nd annual edition, Staples Tax Guide is the essential reference on New Zealand income tax and GST issues. It contains in-depth commentary on legislation, Inland Revenue policy, compliance procedures and judicial decisions.
KEY FEATURES
Comprehensive summary of recent and future developments in tax;
Coverage of all aspects of tax, using a unique A-Z format for unrivalled simplicity;
Commentary on farming, forestry, fishing, property and land;
Depreciation rates;
Examples, flowcharts and relevant references to leading tax cases;
Income Tax Act comparative table (Income Tax Act 2004 and Income Tax Act 2007);
A tax calendar for the current tax year;
Comprehensive, easy-to-use cross-referencing between tax legislation and commentary.
*
Price is for a one-off purchase only. You will receive this edition only in print format upon purchase. To order a subscription or for further information, please contact us by email supportANZ@thomsonreuters.com or call 0800 785 483.