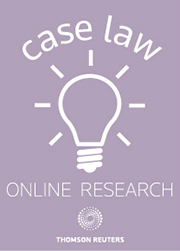 Transport Cases
Online

Date:

Code: 41331725

Thomson Reuters, NEW ZEALAND
Description
Transport Cases is a comprehensive database of more than 5,500 case records, sourced from a variety of New Zealand Courts and Tribunals, relating to air transport, airports, carriage of goods, civil aviation, land transport, maritime, road user rules, traffic law, and transport accidents.
The range of issues covered includes:
Road user charges

prosecutions/infringements
enquiries

Driving offences

breath/blood alcohol
serious driving offences

Driving hours
Owner driver contracts

drafting
dispute resolution

Cartage contracts

drafting
dispute resolution

Licensing
Carriage of Goods Act
*
* Please note that product prices are a standard entry-level price (1-5 online users). This price may vary if there are more users or if customers enter into an e-Options or Information Supply Agreement with us.