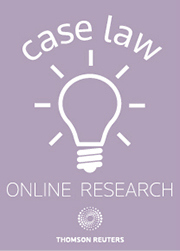 Administrative and Public Law Cases (Westlaw NZ)
Online

Date:

Code: 41331670

Thomson Reuters, NEW ZEALAND
Description
Administrative and Public Law Cases is a comprehensive database of more than 3,000 case records, sourced from a variety of New Zealand Courts and Tribunals, relating to administrative law, Bill of Rights, constitutional law, official information, public law, and the Crown.
Table of Contents
Key Issues covered:
Review of decisions by the Government or statutory bodies, including using and complaining under the Official Information Act 1982, the Ombudsmen Act 1975, the Privacy Act 1993, the Public Audit Act 2001, the Human Rights Act 1993, and the New Zealand Bill of Rights Act 1990.
Inquiries and reviews, including Royal Commissions, Commissions of Inquiry, Ministerial Inquiries, statutory inquiries, Select Committee Inquiries, and reviews and audits by the Auditor-General.
Parliamentary procedure e.g. matters of privilege, Standing Orders
*
*Please note that product prices are a standard entry-level price (1-5 online). This price may vary if there are more users or if customers enter into an e-Options or Information Supply Agreement with us.