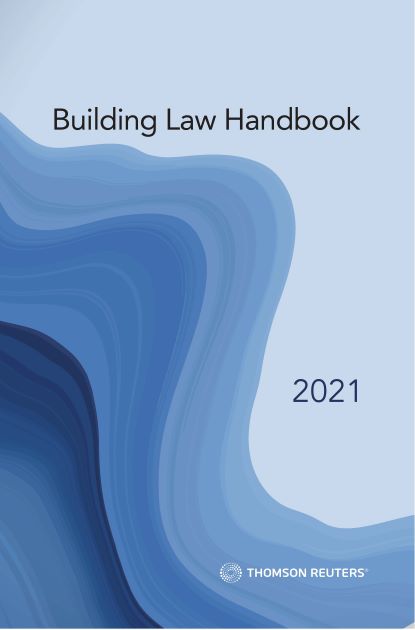 Building Law Handbook 2021 (bk)
Book

$40.40* + GST $101.00 RRP + GST Save: $60.60 (60%)

Date: 10/11/2021

Code: 9781990018817

Thomson Reuters, NEW ZEALAND

Building Law Handbook 2021 (bk)

Sale Price:

$40.40

Saving: $60.60
Description
Building Law Handbook 2021 consolidates in one volume the key legislation relevant to the areas of building and construction law.
Consolidated to 16 August 2021, Building Law Handbook 2021 collates in one volume the key acts and regulations relevant to the area of building law. This new edition consolidates major amendments since 2017, including the Building (Building Products and Methods, Modular Components, and Other Matters) Amendment Bill which came into force on 8 June 2021, which is the largest amendment to the Building Act in the last 5 years..
This is an essential reference book for legal practitioners, academics and students. With a comprehensive subject index, convenient thumbtabs and an alphabetical list of legislation, this portable and convenient handbook ensures quick and easy access to essential, current building acts and regulations.
Table of Contents
Chapter 1 Building Act 2004
Chapter 2 Building Regulations
Building Regulations 1992
Building (Accreditation of Building Consent Authorities) Regulations 2006
Building (Definition of Restricted Building Work) Order 2011
Building (Design Work Declared to be Building Work) Order 2007
Building (Designation of Building Work Licensing Classes) Order 2010
Building (Fee for Determinations) Regulations 2005
Building (Forms) Regulations 2004
Building (Infringement Offences, Fees, and Forms) Regulations 2007
Building (Levy) Regulations 2019
Building (Minor Variations) Regulations 2009
Building (National Multiple-use Approval) Regulations 2011
Building Practitioners (Complaints and Disciplinary Procedures) Regulations 2008
Building Practitioners (Licensing Fees and Levy) Regulations 2010
Building Practitioners (Register of Licensed Building Practitioners) Regulations 2010
Building (Pools) Regulations 2016
Building (Product Certification) Regulations 2008
Building (Registration of Building Consent Authorities) Regulations 2007
Building (Residential Consumer Rights and Remedies) Regulations 2014
Building (Specified Systems, Change the Use, and Earthquake-prone Buildings) Regulations 2005
Notice That Copies of Certain Applications for Building Consent Must be Provided to the New Zealand Fire Service Commission
Chapter 3 Construction Contracts Act 2002
Chapter 4 Construction Contracts Regulations 2003
Chapter 5 Weathertight Homes Resolution Services Act 2006
Chapter 6 Weathertight Homes Resolution Services Regulations
Weathertight Homes Resolution Services (Fee) Regulations 2007
Weathertight Homes Resolution Services (Lower-value Ceiling) Regulations 2007
Chapter 7 Canterbury Earthquake Response and Recovery
Greater Christchurch Regeneration Act 2016
Table of Statutes and Regulation
Subject Index