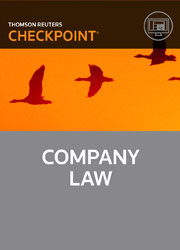 Company Law - Checkpoint
Online

Date: 01/05/2013

Code: 41413595

Checkpoint NZ, NEW ZEALAND
Description
Company Law provides a comprehensive examination of New Zealand company law, combining expert commentary on the legislative wording with analysis of the latest developments in case law.
The product is ideal for the busy professional or researcher who is required to provide expert advice on New Zealand company law.
The annotated format allows easy navigation through the principal legislation governing companies. Key benefits include:
Clear, jargon-free commentary;
Practical analysis of developments in the law;
All relevant company law legislation fully consolidated and constantly up-to-date.
Company Law is a long-established work. First published in 1933 (entitled The Law Relating to Companies in New Zealand), a second edition was published in 1955. The third edition was published as Anderson's Company and Securities Law in 1986. A fourth edition followed new company legislation in 1998, while the current edition was extensively re-written in 2003 to take full advantage of delivery in an online format.
The key purpose of the publication has always been to have a very practical focus that is of value to a wide cross-section of professionals, including lawyers in private practice, corporate lawyers and accountants. Anyone who is required to research or provide advice on New Zealand company law will find that Company Law is an essential source of information Financial Markets Law (also known as Securities Law in some formats) is available separately, but is fully complementary to Company Law.
Table of Contents
Companies Act
Companies Act 1993 - legislation and commentary
Companies Act Regulations 1994
Financial Reporting
Financial Reporting Act 2013: Introduction to the Financial Reporting Act 2013 and legislation
Financial Reporting Regulations 2015
Financial Reporting (Levies) Regulations 2014
Financial Transactions Reporting (Prescribed Amount Regulations 2010
Financial Reporting Act Exemption Notices
Approved Accounting/Auditing and Assurance Standards
Auditor Regulation: Auditor Regulation Act 2011, Auditor Regulations 2012, prescribed minimum standards for accredited bodies and prescribed minimum standards and conditions for licensed auditors and audit firms
Receiverships Act
Introduction to the Receiverships Act 1993
Receiverships Act 1993 - legislation and commentary
Company Liquidations
Introduction to Liquidations
Introduction to Voluntary Administration
Companies Act 1993 Liquidation Regulations 1994
Companies (Maximum Priority Amount) Order 2018
Companies (Reporting by Insolvency Practitioners Regulation 2020
Companies (Voluntary Administration_) Regulations 2007
High Court Rules 2016 - selected relevant extracts
Statutory Management
Corporations (Investigation and Management Act) 1989
Table of Corporations (Investigation and Management Act) Orders and the legislation
Useful Contacts
Contact details for related organisations
Tables of Cases and Legislation
Index
*
Price is for a single annual subscription for firms or businesses with one practitioner.
Practitioner is defined as employed and/or self-employed professionals within New Zealand including: solicitors, self-employed barristers, HR professionals and environmental specialists, corporate counsel, accountants including CPAs and CAs and registered tax agents and financial planners.
For pricing for government departments and authorities and multiple users please call 0800 785 483.