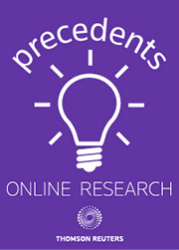 Family Precedents - Westlaw NZ
Online

Date:

Code: 41169109

Thomson Reuters, NEW ZEALAND
Description
Brookers Family Precedents is a comprehensive collection of precedents and other Family Law materials needed by New Zealand family lawyers.
Each topic contains a concise overview of the governing law. In addition to all the forms and precedents required by anyone providing legal advice or representation, many of the topics include checklists, interview sheets, relevant practice notes and policy documents, and sources of further information.
Brookers Family Precedents brings together the desktop tools and resources required by anyone who practices in the major fields of Family Law. The forms and precedents in this service include letters, documents and sample clauses to cover specific situations. The logical organisation of the databases provides an easy step-by-step guide through proceedings.
Table of Contents
Adoption
Appeals
Care and Protection
Care of Children
Child Support
Court Fees
District Courts Rules
Dissolution of Marriage
Domestic Maintenance
Domestic Violence
Family Protection
Family Courts Rules
Legal Aid
Marriages and Civil Unions
Mental Health
Paternity
Practice Notes, Practice Directions and Guidelines
Relationship Property
Protection of Personal and Property Rights
Separation
Spousal Maintenance
Testamentary Promises
Youth Justice Practice
*
Please note that product prices are a standard entry-level price (1-5 online and 1-3 CD users). This price may vary if there are more users or if customers enter into an e-Options or Information Supply Agreement with us.