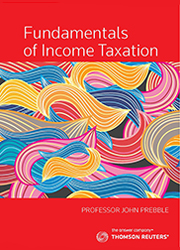 Fundamentals of Income Taxation (1st ed) - eBook
eBook - ProView

Date: 28/06/2018

Code: 41940652

Thomson Reuters, NEW ZEALAND

Fundamentals of Income Taxation (1st ed) - eBook
Description
Authored by Professor John Prebble QC; BA, LLB (Hons) (Auckland); BCL (Oxon); JSD (Cornell); Inner Temple (London), LEANZF, Fundamentals of Income Taxation is the must-have text for all New Zealand students and practitioners of tax. Professor John Prebble has written or edited 12 books on tax and business law and has published over 200 articles in scholarly and professional journals, making him the go-to expert on everything tax law.
Fundamentals of Income Taxation sets out the basics of income tax law in New Zealand, concentrating on substantive rules of the tax system with limited attention to procedural and administrative matters. It provides the reader with an understanding of the structure and main provisions of the Income Tax Act 2007, revenue law in its political and economic context, and the practical problems in resolving tax cases. This textbook offers summaries and conceptual analysis of statutory provisions and cases relating to them.
This textbook does not provide a broad-based grounding in all aspects of revenue law, but instead deals with the core concepts of the law of income taxation as applicable to individuals and businesses.
Split into six distinct parts, Fundamentals of Income Taxation covers:
essentials of income tax and its administration;
the characteristics of income;
treatment of income in the tax regime;
distinguishing capital/revenue and taxable/non-taxable;
deductions; and
tax avoidance concepts, legislation, and historic and contemporary approaches.
Fundamentals of Income Taxation is an invaluable resource for tax practitioners and a must-have for students studying income tax law. It provides core knowledge that is essential for understanding New Zealand income tax law.
*
eBooks and packages including an eBook may not be returned once the software key has been supplied. Your rights as a customer to access and use the ProView™ software and a ProView eBook are subject to acceptance of the ProView content licence agreement.
NB
An email with a registration key and instructions for accessing your eBook will be sent after checkout. For existing ProView users the eBook will appear in your library after checkout.

Forthcoming/pre-order eBooks will be available after the publication date.

The ProView app is not currently available on Kindle. See the latest system requirements