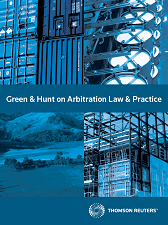 Green & Hunt on Arbitration Law and Practice - Westlaw NZ
Online

Date:

Code: 41169007

Thomson Reuters, NEW ZEALAND
Description
Green & Hunt on Arbitration Law and Practice is a comprehensive treatment of arbitration in New Zealand: the legal framework and the practical considerations of conducting arbitrations.
First published in 1993, this service has become established as the leading authority on arbitration. All relevant New Zealand legislation on the arbitration process is presented with full commentary, and the product also provides a discursive overview of arbitration and the entire arbitration process.
New Zealand arbitration is regulated by the Arbitration Act 1996, and Green & Hunt provides section-by-section commentary on this legislation. There is also detailed information on international arbitration - including international conventions and rules - and specialist New Zealand industry arbitration processes.
Green & Hunt on Arbitration Law and Practice is an essential resource for anyone who is a professional arbitrator or for lawyers and others involved in alternative dispute resolution. Any legal practice with business clients will also find the service of excellent value as a practical guide to an increasingly important way of resolving commercial disputes.
Table of Contents
Glossary and Discursive Commentary
Glossary
Arbitration - History and Distinguishing Features
Prerequisites for Arbitration
Commencement of Arbitration
The Arbitrator - Characteristics, Role, and Obligations Duties
Procedure
Evidence
The Hearing
The Decision-making Process
The Award
Writing the Award
Remedies, Interest, and Costs
Termination of the Arbitral Proceeding
Post-Award - Finality and Enforcement of Award
Challenging the Award
Arbitration Act 1996
Consolidated legislation with section-by-section commentary
Retained Historical Commentary on the Arbitration 1908
Arbitration Act 1908
Arbitration Amendment Act 1938
International Arbitrations
International Arbitrations - An Overview
International Conventions and Rules applicable to New Zealand
Specialist Arbitrations
Construction Arbitrations
Real Estate
Rural Arbitrations
Maritime
Expert Determination and Other Forms of Dispute Resolution by Experts
Forms and Precedents
Related Materials
AMINZ Court of Arbitration and Appeal Tribunal
Guidelines and Panel Lists
Law Commission: Report No 20 - Arbitration and Report No 83 - Improving the Arbitration Act 1996
Comparative Tables
Related Legislation
Table of Provisions for Statutory Arbitration and Dispute Resolution in New Zealand Legislation
Table of Statutes and Regulations
Table of Cases
Subject Index
*
Please note that product prices are a standard entry-level price (1-5 online and 1-3 CD users). This price may vary if there are more users or if customers enter into an e-Options or Information Supply Agreement with us.