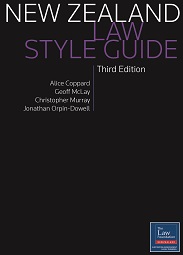 New Zealand Law Style Guide - 3rd Edition
Book

Date: 31/07/2018

Code: 9781988553153

Thomson Reuters, NEW ZEALAND

New Zealand Law Style Guide - 3rd Edition
Description
The New Zealand Law Style Guide provides an authoritative and unified framework of styles used by New Zealand's courts, law schools, legal practitioners and legal publishers.
The first edition, published in 2009, quickly became the standard for the citation of New Zealand legal material. The second edition built on that in 2013 and now the third edition aims to update and modernise the content by:
providing new or expanded rules for a range of material not included in the first and second editions;
clarifying rules, including the position on ibid and "above n x"; and
taking into account developments in citations since the last edition.
Some sections have been rewritten and reordered to make them easier to understand. As a result the Guide is much more user-friendly and the new edition is essential for anyone who has to cite legal materials.