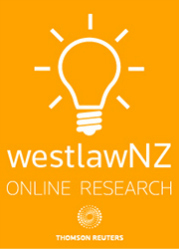 New Zealand Legal Writing Index - Westlaw NZ
Online

Date:

Code: 30121183

Thomson Reuters, NEW ZEALAND
Description
With the New Zealand Legal Writing Index you can access an online index of over 12,000 New Zealand legal articles and link to the full text of leading New Zealand law journals that you subscribe to.
Features
THE INDEX INCLUDES:
Comprehensive search options including: classification, author, date, title and publication.
Links to full text articles as part of the Journals Online subscription.
Coverage as far back as 1954 ensures in-depth searching.
New Zealand focus, directly relevant to the New Zealand legal environment.
Updated on an ongoing basis to ensure currency of research.
Index entries written between 1954 and 1985 are drawn from the Index to New Zealand Legal Writing and Cases originally published by the Legal Research Foundation. Thomson Reuters has expanded the index beyond 1985 to offer references to over 12,000 articles, making it a significant new online tool for New Zealand legal research.
THE FOLLOWING JOURNALS ARE INDEXED ON AN ONGOING BASIS:
New Zealand Law Journal
New Zealand Universities Law Review
New Zealand Law Review
New Zealand Business Law Quarterly
New Zealand Journal of Taxation Law and Policy
New Zealand Journal of Environmental Law
New Zealand Family Law Journal
Law Reviews from Victoria, Auckland, Waikato, Canterbury and Otago universities.
*
Please note that product prices are a standard entry-level price (1-5 online and 1-3 CD users). This price may vary if there are more users or if customers enter into an e-Options or Information Supply Agreement with us.