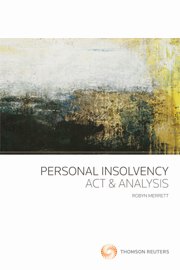 Personal Insolvency: Act & Analysis
Book

Date:

Code: 9780864727671

Thomson Reuters, NEW ZEALAND

Personal Insolvency: Act & Analysis
Description
Personal Insolvency: Act & Analysis provides practical and up-to-date commentary on the key legislation relating to New Zealand's personal insolvency regime.
The work will be an invaluable tool for those who need to provide information to those who need advice on legal issues relating to personal insolvency and creditors' compositions and proposals.
Chapter one provides an introduction to and extensive section-by-section analysis of the Insolvency Act 2006. Chapter two contains the full text of the Insolvency (Personal Insolvency) Regulations 2007 and the Insolvency (Maximum Priority Amount) Order 2009). Chapter three includes Part 24 of the High Court Rules 2008 and the necessary forms for High Court proceedings related to insolvency and bankruptcy.
A table of cases, statutes and regulations supplements the work. Personal Insolvency: Act & Analysis is aimed at lawyers, insolvency practitioners, accountants and those in the business sector and is intended to provide them with a single information resource on this important area of the law.
Features
Chapter 1
Introduction to the Insolvency Act 2006
Insolvency Act 2006 and analysis
Chapter 2
Insolvency (Personal Insolvency) Regulations 2007
Insolvency (Maximum Priority Amount) Order 2009
Chapter 3
Introduction to Part 24 of the High Court Rules
Part 24 of the High Court Rules and Forms B1 to B17 of Schedule 1 of the High Court Rules
This book also includes
Table of Statutes and Regulations
Table of Cases
Subject Index