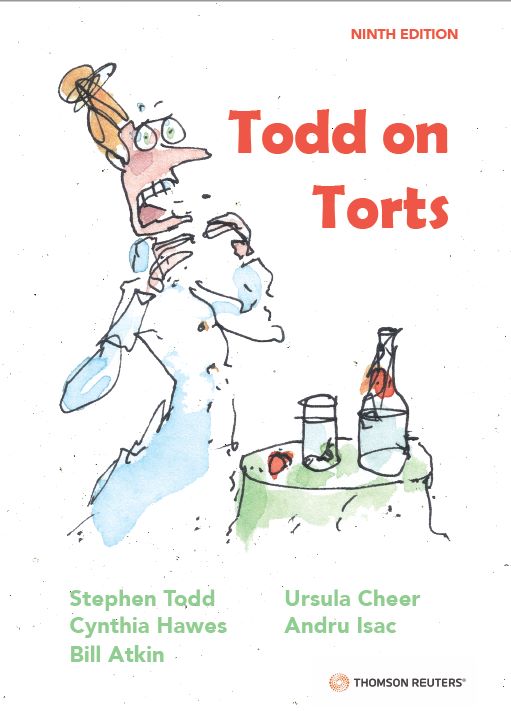 Todd on Torts (9th edition)
Book

$222.70* + GST $262.00 RRP + GST Save: $39.30 (15%)

Date: 24/08/2023

Code: 9781991102379

Thomson Reuters, NEW ZEALAND

Todd on Torts (9th edition)

Sale Price:

$222.70

Saving: $39.30
Description
The many and varied developments in the field of torts during the last 4 years mean that this new, 9th edition of Todd on Torts (formerly The Law of Torts in New Zealand) already is needed. As with previous editions, it seeks to explain and to discuss the evolving law in New Zealand and also to cover significant developments in the wider common law world. Major new or rewritten topics include:
The impact of tikanga Māori on the developing common law of torts
Using proceedings in tort as a means of controlling global warming
The scope of the duty of care and the relationship between the duty issue and the cause of harm
Liability issues arisng out of a biosecurity failure at New Zealand's borders
The direct liability of parent companies for the torts of their subsidiaries
Visual intrusion into property as constituting a nuisance.
The ambit of the elements to vicarious liability
Todd on Torts is the definitive tort work for law students and practitioners. Its exemplary standards and authoritative reputation are both demonstrated by the fact that it is the book most frequently cited in decisions of the New Zealand Courts.
In the Foreward to the 7th edition of this book, published in 2016 on the 25th anniversary of the publication of the 1st edition, Dame Sian Elias, Chief Justice of New Zealand said:
"The best legal writing both sparks the imagination and provides discipline. The Law of Torts in New Zealand is in that mould. It provides insights and analysis for all practising in this field. I expect it to remain the defining work on torts in New Zealand for the next 25 years and to continue to influence the direction of New Zealand law."