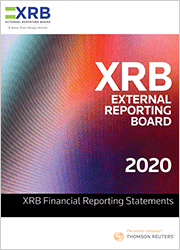 XRB Accounting & Auditing Standards - Checkpoint
Online

Date: 01/03/2014

Code: 41653497

Checkpoint NZ, NEW ZEALAND
Description
Recognising that standards are the essential component behind all financial reporting, Thomson Reuters has developed a fully searchable online database of XRB Financial Reporting Standards.
Making the connection between standards and their application is now instantly achievable as the major XYZ works link to the relevant standards in the Thomson Reuters XRB standards database.
There is now more than 3,000 pages of guidance issued in relation to NZ IFRS and there is more than 2,000 pages of guidance in relation to the NZ IPSAS based standards.
For a user to be able to find their way through all this material can be difficult. Thomson Reuters provides the solution with this new online database.
The regularly updated database contains all the financial reporting guidance and materials that have been issued by the XRB.
Subscribers to the Thomson Reuters XRB database can therefore be confident they are using up-to-date material when undertaking financial reporting research.
For the first time those preparing or auditing financial statements will be able to link from the XYZ Model Financial Statements publications to the relevant accounting standards, combining interpretation and application of the standards with the standards themselves.
Benefits
Updated database mean users can be confident that they are always accessing the latest materials
Links from XYZ MFS to relevant standards
Those preparing or auditing financial statements will be able to confidently undertake comprehensive research across the accounting standards issued by the XRB.
Find out more
For pricing, to order XRB Financial Reporting Standards or other Checkpoint products and services or discuss trial options, please contact our Support Team at supportANZ@thomsonreuters.com or 0800 785 483.
*
Price is for a single annual subscription and includes all updates issued during this period. Thereafter subscription renewal invoices and updates will automatically be issued. Subscribers must provide the publisher with written notice of cancellation within 30 days of the date of their subscription invoice; otherwise the subscriber will be liable for the invoiced amount. For further information email info.anz@thomsonreuters.com or call 0800 785 483.