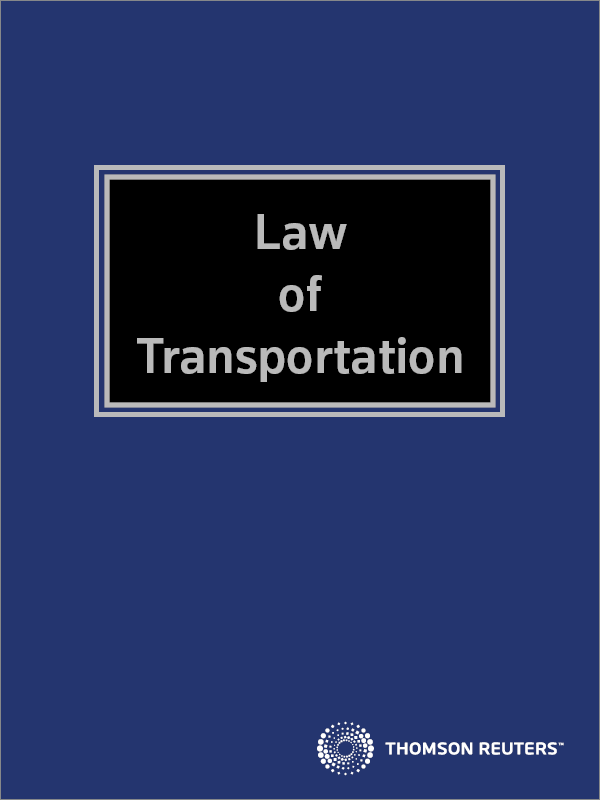 Brookers Law of Transportation
Looseleaf

Date:

Code: 30145216

Thomson Reuters, NEW ZEALAND
Description
Law of Transportation is a comprehensive guide to the principles relevant to criminal and civil proceedings arising out of the use of motor vehicles in New Zealand. This service provides commentary and coverage on all relevant civil and criminal legislation in a fast-changing area of law.
Essential for anyone with a professional interest in the transportation industry - whether provider, adviser, user or enforcer - Law of Transportation combines detailed analysis of the law and its interpretation with information on court practice.
Commentary on road transport legislation is supplemented with practical advice and information on sentencing, court practice and procedure, transport services licensing, and international conventions.
Brookers Law of Transportation was first published in July 1975 as Graham's Law of Transportation - one of the first looseleafs published by Brookers. A second edition in August 1986 was followed by the third in March 1994, changing the title to the current Law of Transportation. The current edition is the fourth, and it was published in March 1999. Law of Transportation was released on CD in October 1994 and online in August 2000, moving to the Brookers Online platform in February 2006.
Table of Contents
Land Transport Act 1998 (with commentary and analysis)
Related Land Transport legislation
Breath and Blood Testing (legislation and commentary)
Bill of Rights (legislation and commentary)
Sentencing (commentary)
Practice and Procedure (commentary)
Enforcement Regulations (legislation and commentary)
Traffic Regulations (legislation and commentary)
Vehicle Standards (rules and regulations)
Vehicle and Driver Registration and Licensing (legislation and commentary)
Transport Services Licensing (legislation and commentary)
Work Time and Logbooks
Road User Charges (legislation and commentary)
Heavy Vehicles
Railways
Carriage of Goods (legislation and commentary)
Funding and Management (management of land transport)
Motor Vehicle Sales
Archive
Related Legislation
Tables of Legislation and Cases
*
Please note that product prices are a standard entry-level price (1-5 online and 1-3 CD users). This price may vary if there are more users or if customers enter into an e-Options or Information Supply Agreement with us.