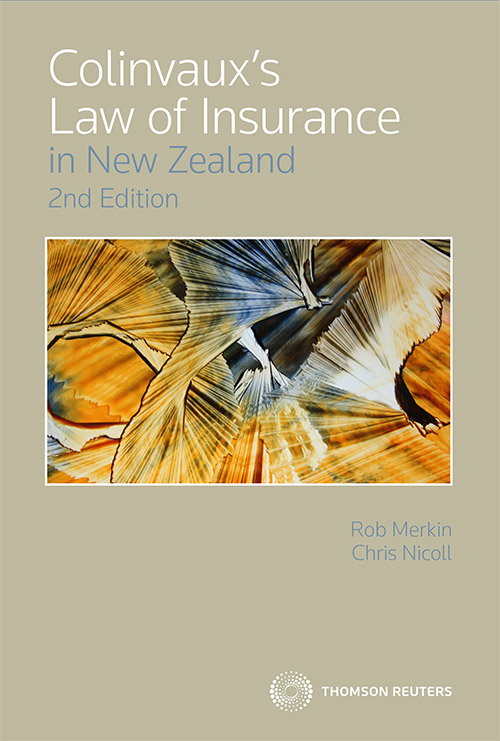 Colinvauxs Law of Insurance in NZ 2nd Edition (eBook)
eBook - ProView

$368.00* + GST $460.00* RRP + GST Save: $92.00 (20%)

Date: 30/10/2017

Code: 9781988504582

Thomson Reuters, NEW ZEALAND

Colinvauxs Law of Insurance in NZ 2nd Edition (eBook)

Sale Price:

$368.00

Saving: $92.00
Description
Colinvaux's Law of Insurance was published in December 2014 as the first major insurance law treatise in New Zealand. Based on the Sweet & Maxwell title of the same name, it launched with an established reputation, expert authors, and into a climate where insurance practitioners require accessible analysis and guidance faster than ever.
The new edition incorporates major case law and legislative developments in the last three years, including further analysis of insurance after natural disasters and increasing parallels with the Australian regime.
Table of Contents
CONTENT
Chapter 1 - Contract of Insurance
Chapter 2 - Construction
Chapter 3 - Risk
Chapter 4 - Utmost Good Faith
Chapter 5 - Terms
Chapter 6 - The Premium
Chapter 7 - Claims
Chapter 8 - Indemnity
Chapter 9 - Rights of Insurers
Chapter 10 - Regulation
Chapter 11 - The Assured
Chapter 12 - Intermediaries
Chapter 13 - Reinsurance
Chapter 14 - Life and Accident
Chapter 15 - Property
Chapter 16 - Liability
Chapter 17 - Financial
Chapter 18 - Marine
Chapter 19 - War and Related Risks
Table of Cases
Table of Statutes and Regulations
Subject Index
*
eBooks and packages including an eBook may not be returned once the software key has been supplied. Your rights as a customer to access and use the ProView™ software and a ProView eBook are subject to acceptance of the ProView content licence agreement.
NB
An email with a registration key and instructions for accessing your eBook will be sent after checkout. For existing ProView users the eBook will appear in your library after checkout.

Forthcoming/pre-order eBooks will be available after the publication date.

The ProView app is not currently available on Kindle. See the latest system requirements