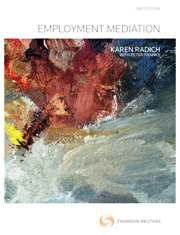 Employment Mediation - 2nd Edition (Book + eBook Bundle)
Book+eBook

$31.50* + GST $78.75* RRP + GST Save: $47.25 (60%)

Date:

Code: 41529919

Thomson Reuters, NEW ZEALAND

Employment Mediation - 2nd Edition (Book + eBook Bundle)

Sale Price:

$31.50

Saving: $47.25
Description
Written by expert employment lawyer Karen Radich and longstanding employment mediator Peter Franks, Employment Mediation is an invaluable and user-friendly guide to the employment mediation process in New Zealand.
The chapters lead the reader through the entire mediation process from start to finish, providing invaluable insights into the range of skills utilised by those involved in the process. The book also contains much that is new, including leading-edge chapters on early assistance mediation, costs in employment cases and the basic steps involved in taking an unresolved dispute to the Employment Relations Authority.
Table of Contents
Introduction
What is mediation?
A brief history of employment mediation in New Zealand
Employment-related mediation today
Mediation processes
MBIE mediation services
Private mediation
Early Assistance mediation
Collective bargaining mediation
Participants in mediation
The mediator
Representatives
Making the most of mediation
Preparing for mediation
The mediation process
Negotiation
Effective communication
Questioning
Listening skills
Issues arising in mediation
Common mediation problems
Imbalances of power
Confidentiality
Settlement and beyond
Settlement options
Costs in employment cases
Settlement issues
Next steps - the Employment Relations Authority
Forms
*
eBooks and packages including an eBook may not be returned once the software key has been supplied. Your rights as a customer to access and use the ProView™ software and a ProView eBook are subject to acceptance of the ProView content licence agreement.
NB
An email with a registration key and instructions for accessing your eBook will be sent after checkout. For existing ProView users the eBook will appear in your library after checkout.

Forthcoming/pre-order eBooks will be available after the publication date.

The ProView app is not currently available on Kindle. See the latest system requirements