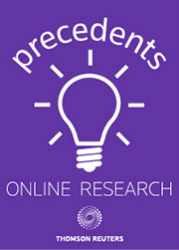 Employment Precedents - Westlaw NZ
Online

Date:

Code: 41169110

Thomson Reuters, NEW ZEALAND
Description
Brookers Employment Precedents collects together the documents and precedents necessary for anyone who is required to advise on or take action in employment-related matters.
The documents are complemented with succinct explanations of each process stage. Information on drafting an employment agreement commences with an offer of employment and takes the user through all the necessary steps. Sample agreements are included, along with a comprehensive library of clauses to cover differing requirements or issues.
The service also includes required forms and other documents necessary for anyone who is required to prepare agreements, contracts and other employment-related documentation. Regular updates ensure the information is kept up-to-date to conform with changes to the law or accepted business practice.
Brookers Employment Precedents also provides guidance on the procedures and processes required should an employment matter require adjudication. All required official forms and practice notes and directions are included.
Table of Contents
Drafting an Employment Agreement
General Information
Sample Individual Agreement
Sample Collective
Sample Independent Contractor
Clauses Library: Over 100 clauses to cover specific requirements and situations
Practice Notes and Practice Directions
Practice Direction
Practice Notes
Trial Management Memoranda
Employment Relations Authority: Steps to be taken in proceedings
Prescribed Forms
Employment Court Regulations 2000
Employment Relations Authority Regulations 2000
Employment Relations (Prescribed Matters) Regulations 2000
Parental Leave and Employment Protection Regulations 2002
Fees Information
Court of Appeal Fees Regulations 2001
Employment Relations Authority 2000
Witnesses and Interpreters Fees 1974
Code of Good Faith for Bargaining for Collective Agreement
Introduction
Text of Code of Good Faith
Department of Labour Publications
*
Please note that product prices are a standard entry-level price (1-5 online and 1-3 CD users). This price may vary if there are more users or if customers enter into an e-Options or Information Supply Agreement with us.