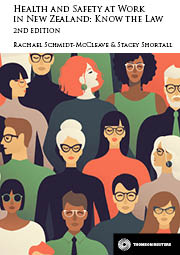 Health and Safety at Work in New Zealand Know the Law (2nd edition) - Pack
Book+eBook

Date: 16/09/2019

Code: 42556175

Thomson Reuters, NEW ZEALAND

Health and Safety at Work in New Zealand Know the Law (2nd edition) - Pack
Description
Health and Safety at Work in New Zealand: Know the Law is an authoritative, practical guide to the Health and Safety at Work in New Zealand Act 2015 and its accompanying regulations. When the new legislation came into force on 4 April, 2016 it brought a greater responsibility to not only understand health and safety, but also to know the law. This book was written to support health and safety practitioners and professionals through that implementation and transition.
The second edition of Health and Safety at Work in New Zealand: Know the Law builds on the well-respected foundations of the first edition, analyzing case law under the new regime and developments in health and safety culture. it includes a new chapter on bullying, harassment and mental health in the workplace and the role of Worksafe.
The 14 chapters and comprehensive subject index cover all the essential elements of the legislation and regulations, the legal framework and policy background, while also discussing relevant cases from New Zealand and Australia. Chapters discuss key terms, offences, enforcement, sentencing, regulations and codes of practice. There is guidance on industry specific topics that many readers will find useful including asbestos, earthquake issues, oil and gas, farming, adventure tourism and construction. The book also includes diagrams to help explain key concepts.
Health and Safety at Work in New Zealand: Know the Law 2nd edition is a concise, user-friendly reference tool for legal practitioners, advisors, managers, directors, health and safety professionals, corporates, regulators and students.
Table of Contents
1 Introduction
2 The 2015 Act
3 Application of the Act
4 Person Conducting a Business or Undertaking (PCBU)
5 Workers under the 2015 Act
6 Inspectors and Health and Safety Medical Practitioners
7 Investigations
8 Courts, Offences and Enforcement
9 Sentencing
10 Regulations
11 Specific Industries
12 Enforceable Undertakings
13 Workplace Bullying, Harassment at Work, Mental Health, and WorkSafe New Zealand's role
14 What's Next
*
eBooks and packages including an eBook may not be returned once the software key has been supplied. Your rights as a customer to access and use the ProView™ software and a ProView eBook are subject to acceptance of the ProView content licence agreement.
NB
An email with a registration key and instructions for accessing your eBook will be sent after checkout. For existing ProView users the eBook will appear in your library after checkout.

Forthcoming/pre-order eBooks will be available after the publication date.

The ProView app is not currently available on Kindle. See the latest system requirements