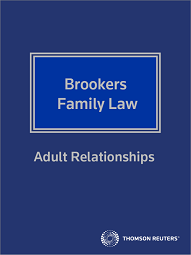 Family Law - Adult Relationships - Westlaw NZ
Online

Date:

Code: 41169022

Thomson Reuters, NEW ZEALAND
Description
Family Law – Adult Relationships brings together the key New Zealand law governing personal relationships between adults. With the Family Violence Act 2018 being one of the major pieces of legislation being commented upon in this product, we also include the chapter "Protecting Children from Family Violence", originally established by Judge Rosemary Riddell.
As with other Family Law services from Thomson Reuters, the principal focus of this product is to provide practical guidance to family law practitioners. The team of authors who update this service brings together experience and knowledge both from an academic and legal practice perspective.
Easy-to-find legislation is balanced with commentary on case law and how the courts have applied the legislation, along with extensive cross-referencing and practical guides on the required processes and procedures for each of the subject areas.
Section-by-section commentary is provided for the main legislation, which includes the Civil Unions Act 2004, the Family Violence Act 2018, pts 1—5 of the Family Proceedings Act 1980 (involving administration, separation, status of marriage or civil union, and children), the Marriage Act I955 and the Domicile Act 1976. Users of Family Law – Adult Relationships are also provided with a practical guide to accessing client counselling, the procedures for separation and dissolution of marriage, and the principles of spousal maintenance. There are also the usual legislative tables, table of cases and a subject index.
This work is available in looseleaf, online and as an eReference (in ProView).
*
Please note that product prices are a standard entry-level price (1-5 online and 1-3 CD users). This price may vary if there are more users or if customers enter into an e-Options or Information Supply Agreement with us.