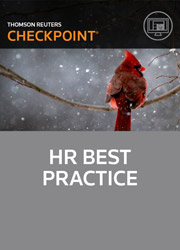 HR Best Practice - Checkpoint
Online

Date: 01/05/2013

Code: 41413609

Checkpoint NZ, NEW ZEALAND
Description
Effective human resources management is essential to the long term development of any organisation. An organisation must attract and keep the best people, while encouraging the maximum participation and contribution of its employees. HR Best Practice provides practical methods for dealing with basic operational issues, and provides guidelines on how to build productive employment relationships and be a fair and reasonable employer in compliance with the law.
A "Recent Developments" section provides a quick means of getting updated with new and proposed legislation and important decisions from the courts.
Find out more
For pricing, to order Checkpoint products and services or discuss trial options, please contact a Thomson Reuters Tax & Accounting Account Manager or our Customer Care Team at info.anz@thomsonreuters.com or 0800 785 483.
Table of Contents
Recent Developments
Human Resources Management
Managing human resources responsibilities.
Business Issues
Policies; Business protection.
Remuneration and Payroll
Salary statistics; Equal pay; Minimum pay rates; Deductions from pay; Overpayments and underpayments; Expenses and allowances; Remuneration and benefits policies; Final pay; Superannuation.
Leave
Annual leave; Public holidays; Sick leave; Bereavement leave; Holiday and leave record; Parental leave; Accident leave; Other leave; Absenteeism.
Recruitment and Promotion
Hiring; Finding candidates; Selection; Making an offer; Unsuccessful applicants; Promotion.
Health and Safety and ACC
Health and safety; Smoking at work; Accident compensation.
Work Culture
Treaty of Waitangi; Discrimination; Harassment; Working time; Employee issues.
Personal Development
Induction training; Performance appraisal; Training and development; Career development; Mentoring.
Discipline and Dismissal
Disciplining and dismissing employees; Misconduct; Non-performance; Suspension; Reviewing disciplinary action; Resignation; Injured workers; Redundancy; Personal grievances; Retirement; Sample termination policies.
*
Price is for a single annual subscription for firms or businesses with one practitioner.
Practitioner is defined as employed and/or self-employed professionals within New Zealand including: solicitors, self-employed barristers, HR professionals and environmental specialists, corporate counsel, accountants including CPAs and CAs and registered tax agents and financial planners.
For pricing for government departments and authorities and multiple users please call 0800 785 483.