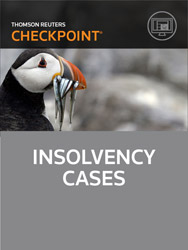 Insolvency Cases - Checkpoint
Online

Date: 01/05/2013

Code: 41413612

Checkpoint NZ, NEW ZEALAND
Description
Checkpoint Insolvency Cases is a comprehensive database of more than 2,900 reported and unreported case records, sourced from a variety of New Zealand courts and tribunals relating to bankruptcy, liquidation, receivership, statutory management, cross-border insolvency, compromises and voluntary administration.
Subscriptions are for 12 months.
For pricing, to order Checkpoint products and services or discuss trial options, please contact a Thomson Reuters Tax & Accounting Account Manager or our Customer Care Team at info.anz@thomsonreuters.com or 0800 785 483.
*
Price is for a single annual subscription for firms or businesses with one practitioner.
Practitioner is defined as employed and/or self-employed professionals within New Zealand including: solicitors, self-employed barristers, HR professionals and environmental specialists, corporate counsel, accountants including CPAs and CAs and registered tax agents and financial planners.
For pricing for government departments and authorities and multiple users please call 0800 785 483.