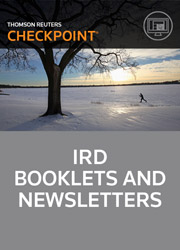 IRD Booklets & Newsletters - Checkpoint
Online

Date: 01/05/2013

Code: 41413583

Checkpoint NZ, NEW ZEALAND
Description
This service contains all current IRD booklets covering taxation, child support, accident compensation and student loans, as well as IR Payroll News, Agents Answers, GST News, and Corporate Contact/Large Enterprises newsletters.
Subscriptions are for 12 months.
For pricing, to order Checkpoint products and services or discuss trial options, please contact a Thomson Reuters Tax & Accounting Account Manager or our Customer Care Team at info.anz@thomsonreuters.com or 0800 785 483.