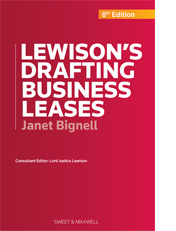 Lewisons Drafting Business Leases 8th Edition
Book

Dispatched from overseas. Estimated delivery 3-6 weeks.




Date: 21/02/2013

Code: 9780414024984

UKS BKS, UNITED KINGDOM

Lewisons Drafting Business Leases 8th Edition

Dispatched from overseas. Estimated delivery 3-6 weeks.
Description
Lewison's Drafting Business Leases is an ideal companion for all property practitioners whether drafting, negotiating, interpreting or litigating commercial lease clauses in the current market.
If you're a lease draftsman, you'll find the new edition addresses the key issues during drafting and negotiation with a practical approach. Contentious issues that can arise, or that you should consider, are focused on, as well as examining drafting concerns from both landlords' and tenants' perspectives.
For litigators on lease renewal and in contractual disputes, you'll have an adviser's guide to the considerations behind the drafting, and to the lessons the case law teaches on lease interpretation.
The text is complemented by specimen clauses which offer drafting solutions to difficult problems.
User-friendly manual combining authoritative legal analysis with practical drafting solutions
Explains the recent legislative and case law developments
Reflects both landlords' and tenants' concerns and respective bargaining positions
Highlights the most contentious topics making clear what will be the focus of negotiations and likely dispute
Gives direction on the court's approach on interpretation
Provides guidance on drafting, including sample clauses, to help ensure leases accurately represent clients' interests
Clarifies what must be included and what each clause entails
Explains and applies relevant Codes of Practice
What's New
The new 8th edition is comprehensively revised and updated reflecting recent topical issues, including:
Interpretation re-visited
Making the most of airspace – Feed in Tariffs, etc
Break clause compliance
Rent review and turnover rent
Virtual assignments
The impact of competition law on user and assignment
Guarantors AGAs and releases
Green leases and understandings
The Service Charge Code and current trends
Recent case law within the 8th edition includes:
Boots UK Ltd v Trafford Centre [2008]
Newham LBC v Thomas - Van Staden [2009]
Heronslea (Mill Hill) Ltd v Kwik Fit Properties Ltd [2009]
Clarence House Ltd v National Westminster Bank Plc [2010]
Good Harvest Partnership LLP v Centaur Services Ltd [2010]
NYK Logistics (UK) Ltd v Ibrend Estates BV [2011]
K/S Victoria Street v House of Fraser [2011]
Taylor v Lambert [2012]
PCE Investors Ltd v Cancer Research UK [2012]
Features and Benefits
Provides a comprehensive and authoritative resource for drafting commercial leases that meet your client's needs
Helps you draft leases containing the right clauses to get your clients the best possible deals
Addresses the contentious issues that arise on preparing, and understanding, a business lease so you'll know which areas will be the focus of negotiations and potential dispute
Provides a key resource to understand and advise on lease interpretation
Helps litigators and advisers see the issues behind the drafting
Clarifies what must be included and what each clause entails which means that you'll be certain which clauses to put in, why those clauses have been put in, and the implications of each clause for the client
Provides guidance on drafting along with sample clauses So you can ensure the lease represents your client's interests
Written by Janet Bignell, a barrister at the leading property set Falcon Chambers. Lord Justice Lewison, General Editor of Woodfall: Landlord & Tenant, is the consultant editor for this title
Gives you confidence when drafting to know that you have guidance from the top specialists in L&T law
*
Please note: This is an international title and will be sent directly from its publisher. Please allow 3 -4 weeks for delivery.