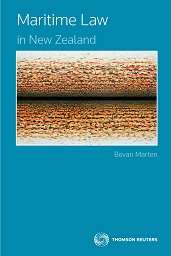 Maritime Law in New Zealand
Book

$173.60* + GST $217.00 RRP + GST Save: $43.40 (20%)

Date: 13/12/2016

Code: 9780947486990

Thomson Reuters, NEW ZEALAND

Maritime Law in New Zealand

Sale Price:

$173.60

Saving: $43.40
Description
Despite the New Zealand economy's near total reliance on shipping, Maritime Law in New Zealand is the first book dedicated to its subject. It provides the wider context in which maritime law issues are dealt with in the New Zealand legal system, as well as valuable guidance on the extensive international law sources that characterise this field.
Maritime Law in New Zealand pulls together the various strands of legislation and jurisprudence into one extensive analysis with a distinct focus on application in the New Zealand territorial zone.
Divided into nine chapters, the book provides clarity around New Zealand's complex Maritime Transport Act 1994, and discusses its interaction with related legislation such as the Resource Management Act 1991. Topics like the admiralty jurisdiction and maritime law's distinctive civil liability regimes are placed in a wider context, drawing on other legal systems to highlight similarities, as well as areas in which New Zealand has taken a different path.
Applicable to those dealing with maritime issues in a commercial, criminal or regulatory context, Maritime Law in New Zealand will be a valuable resource for domestic and international legal practitioners, academics, marine insurers, ports and all whose business involves the sea.
Extract from the Foreword by Hon Justice Stephen Kós, President of the Court of Appeal of New Zealand
" ...This is a text written with all the authority of genuine scholarship, but without the dead-weight burden of stuffiness ... It is a pleasure to read…Much more than that, however, it does those who live in New Zealand, and those who trade with it, a great service by charting a specialist area imperfectly understood. And it does the former an even greater service by identifying areas where further law reform is desirable."
Listen to an interview
Author Bevan Marten talks to Kathryn Ryan on 'Nine to Noon' Radio NZ. In her introduction Kathryn comments that New Zealand is embarrassingly behind international shipping law through being too slow to engage in global discussions about air pollution. Hear more
Table of Contents
CONTENTS
New Zealand Maritime Law and Context
International Law
Regulation
Property
Contract
Wreck and Salvage
Civil Liability
Criminal Liability
Admiralty Jurisdiction
Table of Statutes and Regulations
Table of Cases
Subject Index