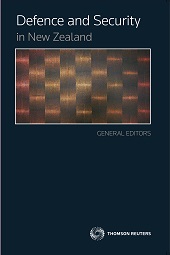 Defence Security and the Law - (Book)
Book

Forthcoming Release, 01/03/2024

Code: 9781988553412

Thomson Reuters, NEW ZEALAND

Defence Security and the Law - (Book)
Description
The legal aspects of New Zealand's defence and security are too easily taken for granted. A cursory review of this country's history reveals, however, that protecting this nation from threats to its security has had a significant impact on New Zealand and on its people from the earliest times until now. The law now impinges every aspect of this important subject, both at the domestic and international level.
Defence, Security and the Law is a comprehensive treatise containing in-depth analysis, practical and procedural guidance, and complete discussion of defence and security at a domestic and international level in New Zealand. It addresses:
The governance, discipline and constitution of the armed forces.
The law relating to the Intelligence and Security Agencies
Military Justice.
The many different aspects of how defence and security impact New Zealand through over 30 Acts of Parliament.
International law as it affects New Zealand defence and security.
This is a unique and unparalleled work condensing the myriad facets and aspects of the New Zealand Defence Force, military discipline, peace support operations, cyber warfare/security and veterans with New Zealand's experience and responsibilities in the international arena including protection of victims of war, war crimes, and crimes against humanity.
Defence, Security and the Law will be an indispensable resource for practitioners with an interest in intelligence and security, the law relating to the armed forces, as well as international law and its subtopics, academics in both areas and of course defence forces, agencies and NGOs in New Zealand and abroad.
* Pre-order: This item will be available on: 01 Mar 2024