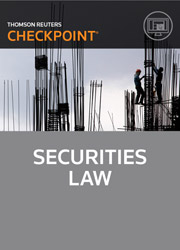 Securities Law - Checkpoint
Online

Date: 01/05/2013

Code: 41413620

Checkpoint NZ, NEW ZEALAND
Description
Checkpoint Securities Law is an accessible and detailed guide to New Zealand law regulating securities. The annotated format allows easy navigation through New Zealand securities legislation and regulations. First published in 1993, the key purpose has always been to have a very practical focus that is of value to a wide cross-section of professionals. Anyone who is required to research or provide advice on New Zealand securities law will find that Securities Law is an essential source of information. Company Law is available separately, but is fully complementary to Securities Law.
Table of Contents
Financial Markets Conduct Act 2013 and accompanying commentary;
Financial Markets Conduct Regulations 2014 and various other financial markets regulations;
Financial Markets Authority Act 2011 and associated regulations;
Financial Markets Conduct Act Exemption Notices and Designation Notices;
Code of Professional Conduct for Financial Advice Services;
Financial Markets Supervisors Act 2011 and associated regulations;
Financial Service Providers (Registration and Dispute Resolution) Act 2008 and associated regulations;
Securities Markets Act 1988 (repealed);
Takeovers Act 1993 and accompanying commentary, and associated Regulations and Orders;
Takeovers Regulations 2000 (Takeovers Code) and accompanying commentary;
Takeovers Code Exemption Notices;
Overseas Investments Act 2005 and associated regulations;
Anti-Money Laundering and Countering of Financing of Terrorism Act 2009 and associated regulations;
Financial Transactions Reporting Act 1996 (repealed);
Non-Bank Deposit Takers Act 2013, associated regulations, Exemption Notices;
Useful Contacts;
Tables of Acts and Regulations;
Index.
Media Types
Looseleaf
A one off book and contents charge will apply for initial set up which covers the cost of the binder(s) and all current looseleaf content to date. All monthly or annual subscription pricing includes all updates issued during the applicable subscription duration.
Online & Proview
*
Price is for a single annual subscription for firms or businesses with one practitioner.
Practitioner is defined as employed and/or self-employed professionals within New Zealand including: solicitors, self-employed barristers, HR professionals and environmental specialists, corporate counsel, accountants including CPAs and CAs and registered tax agents and financial planners.
For pricing for government departments and authorities and multiple users please call 0800 785 483.