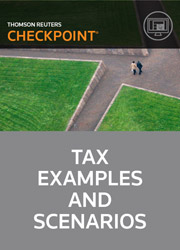 Tax Examples & Scenarios - Checkpoint
Online

Date: 01/05/2013

Code: 41413623

Checkpoint NZ, NEW ZEALAND
Description
Tax Examples and Scenarios is a monthly newsletter which provides model answers to a wide range of everyday client scenarios which raise tax issues or which have tax consequences.
Written in an easily-read "Facts and Solution" style, Tax Examples and Scenarios also contains cross-references to relevant case law and legislation.
Each issue of Tax Examples and Scenarios is based around a topical issue in taxation. The clear and concise layout allows subscribers to scan the information quickly and easily identify situations and solutions which are applicable to their clients.
Subscription to the online version of Tax Examples and Scenarios also includes access to the archive of back issues. This service was first established in February 2003, and the archive is now a comprehensive database of solutions to many contemporary tax issues. Keyword searching of the online database allows quick location of specific situations.
Tax Examples and Scenarios is an ideal resource for any accountant who needs to deliver timely and authoritative advice to clients or businesses with tax issues.
*
Price is for a single annual subscription and includes all updates issued during this period. Thereafter subscription renewal invoices and updates will automatically be issued. Subscribers must provide the publisher with written notice of cancellation within 30 days of the date of their subscription invoice; otherwise the subscriber will be liable for the invoiced amount. For further information email info.anz@thomsonreuters.com or call 0800 785 483.