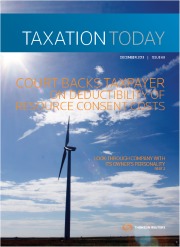 Taxation Today - Checkpoint
Online

Date: 01/05/2013

Code: 41413628

Checkpoint NZ, NEW ZEALAND
Description
Taxation Today is an easy-to-read monthly magazine for everyone who needs to keep up-to-date with topical issues in New Zealand taxation.
Written by experts working in all fields of taxation, the magazine provides a practical and informative update on current issues, trends, recent decisions and rulings, and proposed legislation - both in New Zealand and in relevant overseas jurisdictions.
As well as publishing regular and accessible updates on new and proposed developments, Taxation Today provides expert and in-depth analysis. Selected articles are subject to peer review by expert referees, and the experienced Board of Advisors ensures balanced coverage of all matters which are important to anyone who wants to stay informed on New Zealand taxation.
Each issue contains one feature article (around 5,000 words) and a shorter topical article (up to 2,500 words). These include comment on current tax issues and recent cases.
Features
Regular current awareness information includes:
International Brief - the latest in tax-related news from around the world.
Tax Calendar – a look at important dates and events in the coming wants to stay informed on New Zealand taxation.
Q&A – suggested solutions to questions on topical matters.
*
Price is for a single annual subscription and includes all updates issued during this period. Thereafter subscription renewal invoices and updates will automatically be issued. Subscribers must provide the publisher with written notice of cancellation within 30 days of the date of their subscription invoice; otherwise the subscriber will be liable for the invoiced amount. For further information email info.anz@thomsonreuters.com or call 0800 785 483.