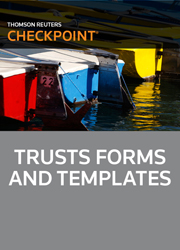 Trusts Forms and Templates - Checkpoint
Online

Date: 01/05/2013

Code: 41413626

Checkpoint NZ, NEW ZEALAND
Description
Checkpoint Trusts Forms and Templates is a comprehensive collection of forms and precedents relating to the establishment, management and variation of trusts in New Zealand.
The forms are logically organised and provide easily adaptable solutions to most problems and issues encountered by anyone who advises on or administers trusts.
As well as precedents for entire documents, the collection includes a number of useful additional clauses for variation of trust deeds. These include retirement on notice, variation of trust, onerous property, delegation, removal of trustees, and exercise of trustees' powers.
Authored and maintained by a leading trust lawyer, Checkpoint Trusts Precedents is updated to ensure that the precedents continually conform to developments in case law, legislation and common practice.
Each title consists of a collection of documents which can be used with Microsoft Word 97 or higher. The software enables you to insert commonly used information (eg names, dates and addresses) and each form will be automatically completed.
CONTENTS
Trust Deeds
Trust deeds for discretionary trusts
Additional clauses for trust deeds
Trust deed for charitable trust
Appointment/Retirement of Trustees
Deed of retirement of trustee
Deed of appointment of new trustee and discharge of retiring trustee
Deed of appointment of additional trustee
Debt and Gift Documents
Deed of acknowledgement of debt
Form IR196 gift statement
Deed of (partial) forgiveness by gift
Deed of (partial) release of debt
General Trust Information
Memorandum regarding trust formation
Trustee duties - a guide for trustees
Relationship Property
IRD Form IR183 for relationship property dispositions and relationship property agreement
IRD Form IR183 for relationship property disposition
Other Documents
Deed of declaration of trust and indemnity
Deed of variation of trust
Deed of resettlement on trust in existence
Deed appointing early vesting day
Deed of distribution
Agenda for initial meeting with client
Memorandum of wishes
Notice of removal of trustee
Trustee limitation of liability
Powers of Attorney
Power of attorney relating to trust
Power of attorney for specified purposes
Resolutions
Initial resolution of trustees
Trustee purchasing and borrowing resolutions
Trustee resolutions additional clauses
Annual resolution of trustee
Sales to Trusts/Lease-back
Agreement for sale and purchase (long form)
Agreement for sale and purchase (short form)
Deed of nomination
Subscriptions are for 12 months.
Find out more
For pricing, to order Checkpoint products and services or discuss trial options, please contact a Thomson Reuters Tax & Accounting Account Manager or our Customer Care Team at info.anz@thomsonreuters.com or 0800 785 483.
*
Price is for a single annual subscription for firms or businesses with one practitioner.
Practitioner is defined as employed and/or self-employed professionals within New Zealand including: solicitors, self-employed barristers, HR professionals and environmental specialists, corporate counsel, accountants including CPAs and CAs and registered tax agents and financial planners.
For pricing for government departments and authorities and multiple users please call 0800 785 483.