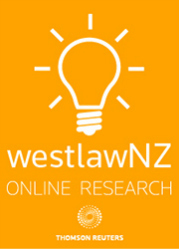 Workplace Safety & Accidents Handbook - Westlaw NZ
Online

Date:

Code: 41169130

Thomson Reuters, NEW ZEALAND
Description
Legal and practical information on occupational health and safety and New Zealand's accident compensation scheme, including a detailed guidance and checklists for audits and a chapter on hazard management with guidance on specific hazards.
TABLE OF CONTENTS
Overview
Introduction to the Health and Safety at Work Act 2015
Health & Safety
Accident Compensation
Health & Safety Case Notes
Hazard Management
Compliance Audits
Hazard Audits
Accident Investigations
ACC Workplace Safety Management Practices Audits
Resources
*
Please note that product prices are a standard entry-level price (1-5 online and 1-3 CD users). This price may vary if there are more users or if customers enter into an e-Options or Information Supply Agreement with us.