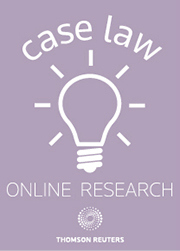 Evidence Cases
Online

Date:

Code: 41331689

Thomson Reuters, NEW ZEALAND
Description
Evidence Cases is a comprehensive database of more than 7,000 case records, sourced from a variety of New Zealand Courts and Tribunals, relating to evidence law.
The cases span the full legal spectrum (criminal, family, civil, employment...) covering important evidential matters including:
admissibility
alibi
blood samples
discovery of documents
expert witnesses
forensics
privileged information
proof
search and surveillance
*
* Please note that product prices are a standard entry-level price (1-5 online users). This price may vary if there are more users or if customers enter into an e-Options or Information Supply Agreement with us.