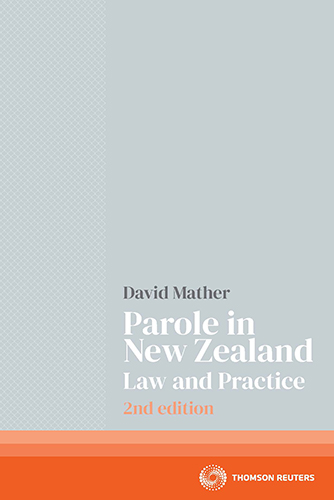 Parole in New Zealand Law and Practice 2e Pack
eBook - ProView

$162.40* + GST $203.00* RRP + GST Save: $40.60 (20%)

Date: 31/10/2019

Code: 42702465

Thomson Reuters, NEW ZEALAND

Parole in New Zealand Law and Practice 2e Pack

Sale Price:

$162.40

Saving: $40.60
Description
Parole in New Zealand: Law and Practice is the leading text on understanding and navigating the parole system in New Zealand. It covers all major aspects of parole law and procedure, providing analysis of the Parole Act 2002, expert comment on case law, insights into the Parole Board process and interactions with key agencies.
This new edition captures developments since the first edition was published in 2016, including case law updated statistics from the Parole Board and Department of Corrections, and information about programmes offered. The book remains organised by topic and follows the parole process in a logical format, starting with a short history of parole and an overview of the Parole Act 2002. The next chapters discuss the structure and functions of the Parole Board and offer a detailed commentary on the parole system in New Zealand, followed by chapters on eligibility, consideration and criteria for release on parole; information for parole hearings; the parole hearing; assessing risk; progression from prison inmate to parolee; and conditions of release.
Later chapters consider the role of victims in the parole process, the prison network, programmes in prisons, reviews and appeals, recall to prison, extended supervision orders, and parole and the media. There is a valuable chapter on the interface between mental health/intellectual disability and the parole process. The final chapter is new and examines the rationale for parole in New Zealand.
The book concludes with several appendices, including the full text of the Parole Act 2002 and general resource material on parole.
Written by District Court Judge and Parole Board member David Mather, Parole in New Zealand: Law and Practice is the only text on the legal aspects of parole matters. It is a valuable resource in the criminal practitioner's tool box and continues to be a must-have for legal professionals, academics, policy makers, the judiciary and those advocating for the rights of victims or prisoners.
Table of Contents
Contents
Foreword to the First Edition
Preface to the Second Edition
Preface
Author
Contents
Chapter 1 History of Parole in New Zealand
Chapter 2 Parole Act 2002
Chapter 3 Eligibility for Parole
Chapter 4 Consideration for Parole
Chapter 5 Criteria for Release on Parole
Chapter 6 Information for Parole Hearings
Chapter 7 Release of Information to Offenders
Chapter 8 The Parole Hearing
Chapter 9 Assessing Risk: Structured Decision-Making
Chapter 10 Mental Health and Intellectual Disability
Chapter 11 Release and Conditions of Release
Chapter 12 Deportation Orders and Extradition
Chapter 13 Victims
Chapter 14 The Prison Network
Chapter 15 Programmes in Prisons
Chapter 16 Reviews and Appeals
Chapter 17 Recall to Prison
Chapter 18 Extended Supervision Orders, Section 107 Orders and Public Protection Orders
Chapter 19 The Media and the Public Interest
Chapter 20 Why Parole?
Appendix 1 Parole Act 2002
Appendix 2 Prison Statistics (as at 30 June 2019
Appendix 3 Prison Network
Appendix 4 Glossary of Abbreviations
*
eBooks and packages including an eBook may not be returned once the software key has been supplied. Your rights as a customer to access and use the ProView™ software and a ProView eBook are subject to acceptance of the ProView content licence agreement.
NB
An email with a registration key and instructions for accessing your eBook will be sent after checkout. For existing ProView users the eBook will appear in your library after checkout.

Forthcoming/pre-order eBooks will be available after the publication date.

The ProView app is not currently available on Kindle. See the latest system requirements