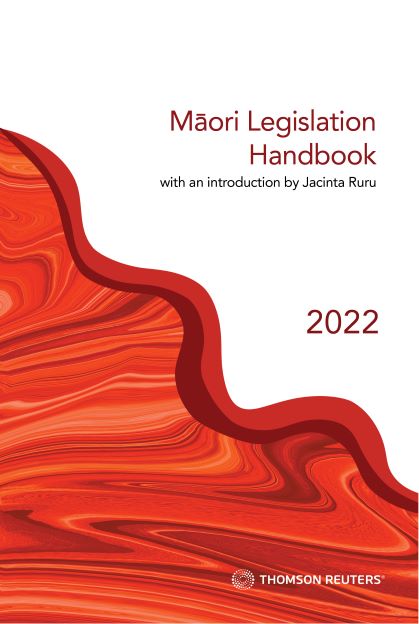 Māori Legislation Handbook 2022
Book

$80.80* + GST $101.00 RRP + GST Save: $20.20 (20%)

Back order: This item will be shipped when it is available.




Date: 21/11/2022

Code: 9781990018275

Thomson Reuters, NEW ZEALAND

Māori Legislation Handbook 2022

Sale Price:

$80.80

Saving: $20.20

Back order: This item will be shipped when it is available.
Description
Brookers Māori Legislation Handbook 2022 is a collection of the core statutes that relate specifically to Maori in one convenient bound volume. This handbook groups the legislation, rules and extracts drawn from Brookers New Zealand Law Partner into seven chapters: Treaty of Waitangi; Maori land; governance; resource management; coastal resources; forests; and language and culture.
The fourth edition of a successful title, this handbook remains the only collection of Maori legislation in bound form. Legislation is consolidated to 1 July 2022.
Key features of this handbook include:
An introduction by Professor Jacinta Ruru;
Statutes grouped by theme;
Consolidated Te Ture Whenua Maori Act 1993 (including the Te Ture Whenua Maori (Succession, Dispute Resolution, and Related Matters) Amendment Act 2020 changes);
Te Pire mo Te Reo Maori / Maori Language Act 2016;
Te Urewera Act 2014 and Te Awa Tupua (Whanganui River Claims Settlement) Act 2017;
Convenient lists of Treaty of Waitangi Claim Settlement Acts, Iwi Governance Statutes, and legislation referring to the principles of the Treaty of Waitangi;
Practical extracts from resource management, local government, fisheries and forestry legislation; and
A map indicating iwi areas and regions.
This Handbook is designed to meet the needs of legal practitioners, academics, students, local government bodies, iwi representatives, Maori Trust Boards and Maori Trusts.