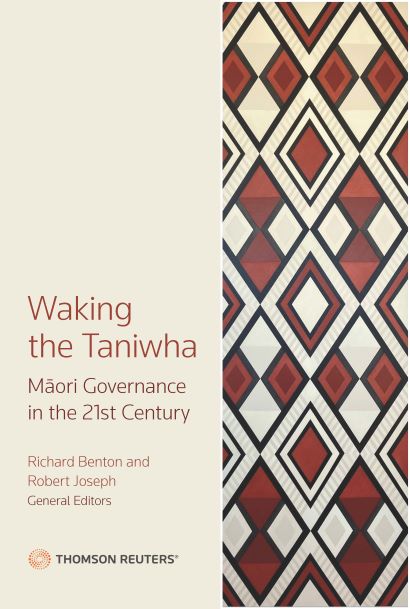 Waking the Taniwha: Māori Governance in the 21st Century bk
Book

$167.20* + GST $209.00 RRP + GST Save: $41.80 (20%)

Date: 30/06/2021

Code: 9781988591117

Thomson Reuters, NEW ZEALAND

Waking the Taniwha: Māori Governance in the 21st Century bk

Sale Price:

$167.20

Saving: $41.80
Description
Waking the Taniwha: Māori Governance in the 21st Century is a comprehensive analysis of the manifestations, complexities and challenges arising out of the development of Maori governance structures in a post-Treaty of Waitangi settlement period. As well as bringing together the many elements that feed into the governance of Maori corporate entities, the text highlights key principles and best practices of Maori corporate governance.
The chapters were written by an expert author team of indigenous and allied academics, practitioners, and members of the judiciary, led by general editors Robert Joseph and Richard Benton. The book is separated into six substantial parts, starting with tikanga and matauranga Maori in a governance context, then considering treaty settlements, sectoral governance, theoretical and constitutional issues, legal opportunities and constraints, and the way forward.
The publication of Maori Corporate Governance is a milestone in New Zealand legal writing. It is a single-stop research text for iwi, post-settlement governance entities, legal advisors and those looking to work with those entities in partnership.
Table of Contents
He Kupu Whakataki by Whaimutu Dewes
Foreword by Stephen Cornell
General Editors and Authors
Editors' Preface
Part A Introduction
Chapter 1 Introduction by Robert Joseph
Part B Nga Taonga Tuku Iho in Māori Governance
Chapter 2 Mo Muri ma Mua – Going Back to the Future: Lessons from the 1864 Battle of Orakau for Contemporary Maori Governance by Robert Joseph
Chapter 3 Maori Leadership in Governance: A Living Whariki System by Chellie Spiller
Chapter 4 Infusing Tikanga into Corporate Maori Governance Entities in the Current Legal Framework by Natalie Coates
Chapter 5 Te Kauhanganui: Principles of Tribal Governance by Michael Ross
Chapter 6 The Connected Space of Maori Governance: Towards an Indigenous Conceptual Understanding by Steven Kent
Chapter 7 "Frankenstein Incorporated" v Social Citizen — Learning from Maori Tikanga in Framing New Zealand Corporate Governance Principles by Julie Cassidy
Part C Treaty Settlements
Chapter 8 Treaty Settlements Ropu (Office of Treaty Settlements) – Crown Policy and Practice on Post-Treaty Settlement Governance by Mark Hickford
Chapter 9 Tuhoe Self-governance: Te Mana o Motuhake o Tuhoe by Jason Paul Mika
Chapter 10 Te Kapua Whakapipi: Ngati Tuwharetoa Governance by Gina Rangi
Part D Sectoral Governance
Chapter 11 Maori Co-governance and/or Co-management of Nature and Environmental Resources by Catherine Iorns Magallanes
Chapter 12 Transforming Iwi Organisations — How Insights into Hybrid Organisations Can Help by Sacha McMeeking
Chapter 13 Maori Governance of Water: Innovation in Reconciliation Agreements by Jacinta Ruru
Chapter 14 Fisheries and Maori Governance by Valmaine Toki
Chapter 15 Governance of National Parks: Is the Law Enabling a Treaty of Waitangi Partnership? by Jacinta Ruru
Chapter 16 Maori Governance in the New Zealand Health System by Amohia Boulton
Chapter 17 Maori Education Through a Human Rights Lens: Learners and Educators as Everyone, No-one, Someone, Complex, and Indigenous Human Rights Holders by Keakaokawai Varner Hemi
Part E Theoretical and Constitutional Issues
Chapter 18 Maori and Constitutional Change by Caren Fox & Matiu Dickson
Chapter 19 Lex Aotearoa: Mapping the Maori Dimension in Modern New Zealand Law by Justice Joseph Williams
Chapter 20 The Vocabulary of Maori Governance by Richard A Benton
Chapter 21 Recognition of Tikanga Maori and the Constitutional Myth of Monolegalism: Reinterpreting Case Law by Claire Charters
Chapter 22 Hapu, Iwi, Crown in Ngapuhi Governance by Mylene M D Rakena & Richard A Benton
Part F Legal Opportunities and Constraints
Chapter 23 Maori Governance and the Exclusive Economic Zone by Catherine Iorns & Rhianna Morar
Chapter 24 The Protection of Maori Knowledge and Culture in the Proposed Kermadec Ocean Sanctuary Bill by Eilís Donnelly
Chapter 25 The Potential Effects on Hapu Development of Proposed Reforms Affecting Ahu Whenua Trusts by Layne Harvey
Chapter 26 The Legal Framework Governing Trusts for Maori Organisations and Communities by Joel Manyam
Chapter 27 Surplus Public Works Land: Power, Relationships, and Accountability by Michael Grayson
Part G The Way Forward
Chapter 28 Towards Self-Determination: Maori Pathways in Decade Two by Mason Durie
Chapter 29 The World Bank Dedicated Grant Mechanism and Maori Governance by Valmaine Toki
Chapter 30 Coming Ready or Not! The Emergence of Maori Hapu and Iwi as a Unique Order of Governance in Aotearoa New Zealand by Nin Tomás
Chapter 31 Maori Environmental Governance and Ecosystem-based Management in Aotearoa, New Zealand by Mylene MD Rakena
Chapter 32 Enhancing the Maori Innovation System by Sacha McMeeking
Chapter 33 The Governance of Matauranga Maori after Ko Aotearoa Tenei by Fleur Te Aho
Afterword
Chapter 34 Afterword: Ko te Reo te Mauri o te Mana Maori by Richard A Benton
Subject Index