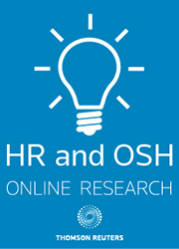 OSH Solutions - Alert24 Safeguard Update
Online

Date: 01/07/2014

Code: 41688106

Thomson Reuters, NEW ZEALAND
Description
Alert24 Safeguard Update is the weekly email version of the four-page Safeguard Update newsletter published fortnightly since 1994. It has long been recognised as the leading source of news on developments in workplace health and safety in New Zealand.
It is essential reading for anyone who needs to keep up to date with this topic, including health & safety practitioners, HR managers, business compliance consultants, employment lawyers, and staff of government agencies such as the WorkSafe New Zealand and ACC.
It is delivered weekly via email, with a searchable archive of all Safeguard Update stories back to 2009. View more.
For product or subscription enquiries email oshsolutions@thomsonreuters.com.