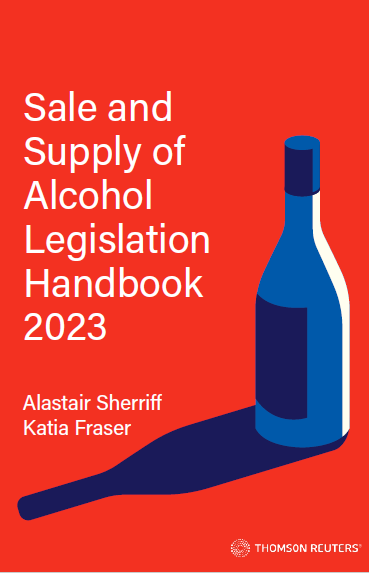 Sale and Supply of Alcohol Legislation Handbook 2023
Book

$68.00* + GST $80.00 RRP + GST Save: $12.00 (15%)

New Release, 28/11/2023

Code: 9781991102607

Thomson Reuters, NEW ZEALAND

Sale and Supply of Alcohol Legislation Handbook 2023

Sale Price:

$68.00

Saving: $12.00
Description
The Sale and Supply of Alcohol Legislation Handbook 2023 features key legislation and regulations supplemented by a practical introduction by Alastair Sherriff and Katia Fraser. The introduction outlines the history and development of sale and supply of alcohol law in New Zealand and describes the key features and amendments of the Act, and its application.
The new edition includes the full text of the Evidence Act 2006 for the first time, along with the Commissions of Inquiry Act 1908, and the Regulations made under the Sale and Supply of Alcohol Act 2012. The legislation is current to 31 August 2023, and includes recent changes to the core legislation such as exemptions for race meetings, the Rugby World Cup, community participation amendments and the replacement of the Resource Management Act 1991 with the Natural and Built Environment Act 2023.
This work is an invaluable resource for local authorities, Police, Medical Officers of Health, licensing authority and licensing committee members, as well as consultants and lawyers who advise clients on alcohol licensing matters.
Alastair and Katia are alcohol licensing experts and have participated in many of the leading cases in the field. They are the co-authors of Sale of Alcohol (online loose leafed, Thomson Reuters).