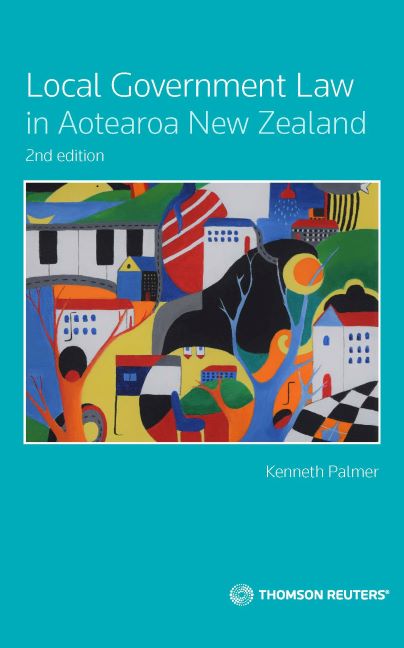 Local Government Law in Aotearoa New Zealand (2nd ed) eBook
eBook - ProView

New Release, 31/05/2022

Code: 9781988591209

Thomson Reuters, NEW ZEALAND
Description
Local Government Law in Aotearoa New Zealand is Kenneth Palmer's fourth treatise on the law relating to local government and local authorities. The previous treatises, published in 1978 and 1993 respectively, were highly both regarded works in their field, and the first edition of this title was published as Local Authorities Law in New Zealand in 2012.
The new edition deals with all aspects of the law affecting local authorities, providing a complete statement and analysis of the current law and changes that have occurred since the previous edition. It covers a vast breadth of topics including powers, administration, finance, procedure, land valuation, consultation and many more.
Local Government Law in Aotearoa New Zealand is an invaluable resource for lawyers, local authorities, policy advisors, students and anyone who is interested in an authoritative commentary on Local Authorities Law.
Table of Contents
Preface
Abbreviations Used in This Book
Chapter 1 Local Authorities: Structure and Purpose
Chapter 2 Powers and Administrative Principles
Chapter 3 Civil Liability of Local Authorities
Chapter 4 Local Elections and Polls
Chapter 5 Governance and Decision-Making
Chapter 6 Planning and Financial Management
Chapter 7 Member Responsibility and Audit
Chapter 8 Public Meetings and Official Information
Chapter 9 Officers and Employment
Chapter 10 Local Authority Contracts
Chapter 11 Land Valuation Procedures
Chapter 12 Local Authority Rating
Chapter 13 Bylaws and Licensing
Chapter 14 Works, Safety and Environmental Health
Chapter 15 Property Development and Administration
Chapter 16 Community Services and Public Reserves
Chapter 17 Resource Management – Purpose and Plans
Chapter 18 Resource Management Consents and Enforcement
Chapter 19 Auckland Council
Chapter 20 Council-Controlled Organisations
Chapter 21 Māori and Local Government
Chapter 22 Fire Services and Emergency Management
Chapter 23 History and Role of Local Authorities
Appendix
1. Local authorities in New Zealand
2. Treaty of Waitangi Act 1975 (extract)
3. New Zealand Bill of Rights Act 1990 (extract)
4. Human Rights Act 1993 (extract)
5. Māori Language Act 2016 (extract)
Table of Statutes and Regulations
Table of Cases
Index
*
eBooks and packages including an eBook may not be returned once the software key has been supplied. Your rights as a customer to access and use the ProView™ software and a ProView eBook are subject to acceptance of the ProView content licence agreement.
NB
An email with a registration key and instructions for accessing your eBook will be sent after checkout. For existing ProView users the eBook will appear in your library after checkout.

Forthcoming/pre-order eBooks will be available after the publication date.

The ProView app is not currently available on Kindle. See the latest system requirements