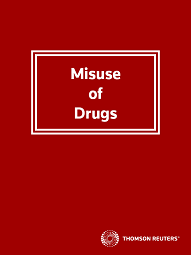 Misuse of Drugs - Westlaw NZ
Online

Date:

Code: 41169091

Thomson Reuters, NEW ZEALAND
Description
Misuse of Drugs provides detailed guidance on all aspects of the law relating to drug misuse in New Zealand.
Written by specialist author Dr Don Mathias, this work has established itself as a core reference on the laws of drug misuse and trafficking since its first publication in 1988. Offering a balance of law and procedure, it is used by all sectors of the criminal legal system.
An impartial approach means that both defence lawyers and prosecutors may draw upon its clear guidance. Misuse of Drugs is also an essential resource for judges, the police, probation officers, forensic scientists, students and members of the public interested in the law of drug misuse and trafficking.
Misuse of Drugs covers all offences as well as evidence, sentencing and forfeiture. Links are provided to commentary in Adams on Criminal Law and cases in Briefcase to facilitate research. Cited legislation is also fully linked. The text follows a logical progression, starting with possession, moving through manufacturing or cultivation and supply and other offences to court proceedings and sentencing.
Table of Contents
Introduction
Possession
Equipment, Material and Precursor Substances
Importing and Exporting Controlled Drugs
Producing or Manufacturing a Controlled Drug
Supplying, Administering, or Otherwise Dealing
Procuring, Consuming, Smoking, or Otherwise Using
Cultivation of a Prohibited Plant
Permitting the Use of Premises for an Offence against the Act
Secondary Participation
Conspiracy
Attempts
Court Procedures
Bail
Preventing Abuse of Process
Search and Seizure
Surveillance
Interception of Private Communications
Proving the Identity of the Drug
Forfeiture, Proceeds of Crime, and Money Laundering
Sentencing
Related Legislation
Subject Index
ACCURATE
All information, cases and legislation are rigorously checked by our team of legally-qualified editors and researchers.
CURRENT
Continued consolidation of legislation and replacement of outdated commentary provides an up-to-date view of drug misuse in New Zealand.
RELIABLE
First published in 1988, it is a highly regarded legal text.
MEDIA TYPES
This work is available online and as an eReference (in ProView).
*
Please note that product prices are a standard entry-level price (1-5 online and 1-3 CD users). This price may vary if there are more users or if customers enter into an e-Options or Information Supply Agreement with us.