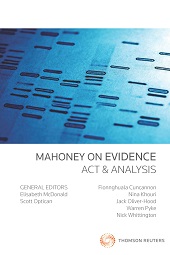 Mahoney on Evidence: Act & Analysis (Book + eBook)
Book+eBook

$152.00* + GST $190.00* RRP + GST Save: $38.00 (20%)

Date: 18/08/2018

Code: 42543613

Thomson Reuters, NEW ZEALAND

Mahoney on Evidence: Act & Analysis (Book + eBook)

Sale Price:

$152.00

Saving: $38.00
Description
Since its initial publication in 2007, The Evidence Act 2006: Act and Analysis has been the leading and authoritative New Zealand text on the Act. Cited extensively in judicial decisions and academic writing, its section-by-section commentary — with extensive cross-referencing — blends description, analysis and critique in a wide-ranging explanation of the Act, its underlying principles and its individual provisions.
This new and expanded version of the book — now entitled Mahoney on Evidence: Act and Analysis in honour of retired former author Professor Richard Mahoney — continues to build on its reputation as an indispensable resource for academics, practitioners, researchers, policymakers and law students alike. The text provides an updated examination of the Evidence Act and a thorough treatment of noteworthy court decisions (past and present) from the New Zealand Supreme Court, Court of Appeal and High Court. The book also discusses the 2016 amendments to the Act, and the New Zealand Law Commission's 2018 Issues Paper, released in preparation for the Act's second 5-year review.
Mahoney on Evidence: Act and Analysis is written by a new and expanded team of New Zealand's foremost evidence law academics and practitioners. They bring their unique perspectives to this latest volume, which provides an inestimable treatment, both scholarly and practical, of the law of evidence in New Zealand today.
Table of Contents
CONTENTS
Foreword (Stephen Kos J)
Author bios
Preface
Evidence Act 2006 (with section based commentary)
Evidence Regulations 2007
Evidence (Recognition of Overseas Practitioners) Order 2008
Evidence (Trans-Tasman Service of, and Compliance with, New Zealand Subpoenas and Australian Subpoenas Issued in Criminal Proceedings) Rules 2013
Table of Cases
Table of Statutes and Regulations
Subject Index
Resource Downloads
General Downloads
*
eBooks and packages including an eBook may not be returned once the software key has been supplied. Your rights as a customer to access and use the ProView™ software and a ProView eBook are subject to acceptance of the ProView content licence agreement.
NB
An email with a registration key and instructions for accessing your eBook will be sent after checkout. For existing ProView users the eBook will appear in your library after checkout.

Forthcoming/pre-order eBooks will be available after the publication date.

The ProView app is not currently available on Kindle. See the latest system requirements